Canon MP610 printer
Canon MP610 printer CD DVD tray layout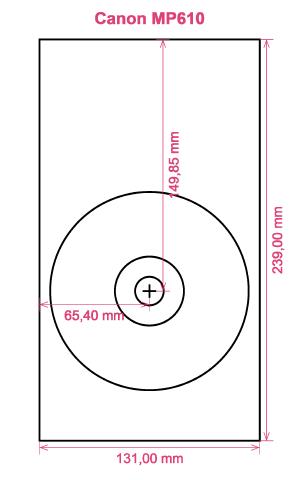 How to print labels on Canon MP610 printer
Once you have used the RonyaSoft CD & DVD Cover Designer, easy will be the word that comes to mind - you will definitely be amazed at how uncomplicated it is to download the labels design software programme by clicking on the link below and within just a couple of ticks you will be printing brilliant CD or DVD labels and covers on your Canon MP610 printer.
Whatever you do don't switch off there, as you may be missing the larger reason behind this CD/DVD labels designing software. RonyaSoft haven't gone to such extremes simply so you can print off a list of tracks on a CD or a film title on a label. No! This CD labels maker software will offer you so many different options for Blu-ray, CD or DVD label design to allow you to print attractive labels and covers. Plus, the CD label design software can also be used to make Blu-ray, CD or DVD covers and box inserts utilising our Blu-ray, CD or DVD templates.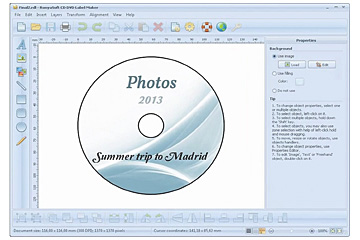 How clever do you like labeling to be? A few clicks of a mouse is enough for you to then be printing your own CD DVD labels, CD/DVD/Blu-Ray box covers and Blu-Ray box inserts. You don't have to be a genius to 'click' with this simple to download labels design software, just try it and see for yourself!
Download and install Blu-ray/CD/DVD Label & Cover Designer software program for free to try.
Click on your chosen option from a fantastic choice of preinstalled Blu-ray/CD/DVD label and cover templates.
Add any of your own design ideas to make the CD and DVD labels extremely personal.
Print the new label by clicking the 'Print' button. Never forget to indicate your Canon MP610 printer during the design process and to use the latest free version of the driver.
Smile!
The RonyaSoft label making software uniquely gives you and your Canon MP610 printer all you could desire for personalizing so many great CD or DVD presents.
Anyone will tell you that a present with a personal touch, something sweet, will forever be appreciated far more than something bought, so you will have more than paid for your CD & DVD label create software, when you give someone a present.
Try making some of these:
You're at a wedding and you take lots of un-staged photos or video clips of all the guests looking cheerful and having a great time fun. Choose your best, burn them on to a disc and post it to the bride and groom as a thank you for the invitation to their wedding. They will remember you for the thoughtful and personal touch. And what did it cost you to make one of the most kind offerings they will have received during their wedding? - The price of a blank disc, two pieces of paper and a drop of ink from your Canon MP610 printer. Cool huh?
Use jazzy images and snaps to to make CD and DVD box covers and make CD DVD labels to easily identify your CD's and DVD's.
Do you love being creative? Why not make new photos for the CD or DVD covers for your collection?
What a disaster if you have your laptop and memory stick damaged - where are all your photos kept? Make extra safe you don't lose all treasured memories of those great days in your life - just print off some cool CD and DVD labels, burn your snaps on to a disc and keep everything sensibly where you can see it.
Need to stand out from the crowd when keenly trying to impress even before you have been offered a job interview? Make a professional looking DVD rounded off with printed case cover, printed insert and printed label to make a brilliant memorable impression.
The RonyaSoft CD & DVD Cover Designer is ideal for using with your Canon MP610 printer, so there's nothing to stop you instantly from starting your own ideal print shop!
Blu-Ray/CD/DVD label maker software supports Microsoft Windows Operational System, including Windows XP, Windows Vista, Windows 7 and is compatible with a wide range of disc label printers, including: Canon iP3000, Canon iP6700, Canon MG5320, Canon MP600R, Canon MP960, Epson PM-G700, Epson Stylus Photo PX710W, Epson Stylus Photo R3000, Epson Stylus Photo T60, HP Photosmart C5273, HP Photosmart C5290, HP Photosmart D7500 series, Yurex MantraJet 1100 and similar.
Blu-Ray/CD/DVD labels maker software supports a wide range of disc label providers, including: Americal 313911, Avery 8832, Avery L7760, CD Stomper 2-up CD DVD with Center Labels, CoolBeLa BMS003HIG CD DVD, D-Tech CD DVD, HP CDR6000A 3-up, Meritline, Pelikan 406903 3-up, Polyline MCD462W, Sanwa LB-CDR010 CD DVD, Worldlabel WL-OL5025, Zweckform L7776 and similar.