Canon iP4000 printer
Canon iP4000 printer CD DVD tray layout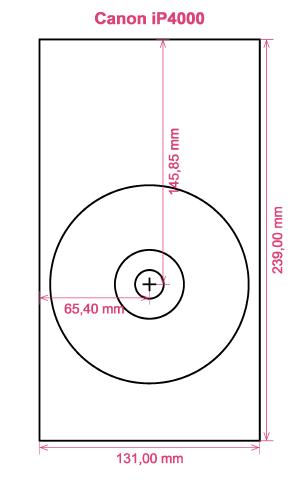 How to print labels on Canon iP4000 printer
It's after you have had a go with the RonyaSoft CD DVD Label Creator that you can discover how incredibly great it is to use great prints - gone are the days when you worry about not being able to make the most of modern technology! Within moments of downloading the CD DVD labeller software you should be printing CD or DVD labels on a Canon iP4000 printer.
However that's not all that's useful with this exceptional DVD labels making software. RonyaSoft may have made everything as easy as possible to use, but the prints would suggest differently when you see the quality of printed CD or DVD labels. This Blu-ray, CD or DVD label maker software has ideas galore for making top quality labels! However for making Blu-ray, CD or DVD labels and covers isn't all when you know you'll need Blu-ray, CD or DVD case inserts and case covers too and discover RonyaSoft have a selection of templates you can use.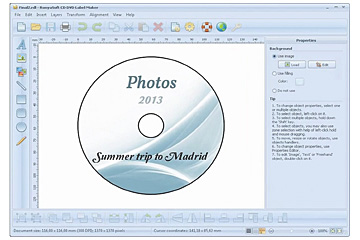 Concerning straightforward to use, well 'user-friendly' became even more friendly. Just follow the directions to discover how straightforward, yet effective and professional results will be when you start to create CD/DVD case covers, CD DVD labels and CD case inserts:
To automatically download the CD & DVD labels printing software program, click on the 'Download' button.
Try out one of the predesigned CD & DVD label and cover templates.
Start printing your unique DVD or CD label after clicking the 'Print' button, after selecting your Canon iP4000 as the proper printer being used. Always use the latest free driver updates.
Smile!
The RonyaSoft label making software instantly gives you and your Canon iP4000 printer all you could desire for personalizing so many great CD or DVD presents.
There is nothing better than being given a gift which indicates someone cares enough to make something unique for you. Save on costly shop-bought presents and with your first gift to someone special you will have covered the cost of your RonyaSoft CD DVD and Blu-ray labeling software.
Think about these wonderful ideas:
Life is all about memories, and a few of the best ones we have are of family days spent together. Everyone has a camera and everyone has their own set of pictures, but what excitement to make a assembly of the 'best of' photos from everyone and then run off a few copies on to a CD, create your own special labels and case covers using the RonySoft label printer for CD's, DVD's and Blu-rays and your Canon iP4000 printer and send them as a surprise gift to each member of the family who was there.
Use vibrant images and photos to to make Blu-ray, CD or DVD case covers or make CD DVD labels to easily spot your CD's and DVD's.
Have to store snaps cataloged? Put a appropriate photo on the CD label or DVD box cover.
What happens if you have your laptop and memory stick damaged - where are all your photos stored? Make doubly certain you don't lose all stored memories of those great days in your life - just print off some cool CD DVD labels, burn your snaps on to a disc and keep everything securely where you can see it.
Make an unique video for job applications and print an appealing box with a smart CD & DVD label to add the finishing touches.
RonyaSoft CD DVD Label Creator is the best software add-on to use with your Canon iP4000 printer so download it instantly and get those imaginative creative juices flowing!
Blu-ray label design software works on Windows OS, including Windows XP, Windows Vista, Windows 8 and is compatible with a wide range of CD/DVD/Blu-ray label printers, eg: Canon iP4300, Canon iP5200R, Canon MG5350, Canon MP750, DYMO DiscPainter, Epson PM-900C, Epson PM-G800, Epson Stylus Photo R285, Epson Stylus Photo R360, Epson Tray Type 1, HP Photosmart C5580, HP Photosmart D5445, Yurex MantraJet 1150-XL and others.
Blu-ray labels making software supports a wide range of CD/DVD/Blu-ray label providers, eg: Ace 61200 series, Avery 8832, Boma LD001, CD LabelCorp CD DVD (5x10 sheet), CoolBeLa BMS003HIG CD DVD, Herma 5085 CD DVD Label, IBM, LabelWhiz LW60400, Neato CD DVD Complete, Printec AnyLabel L3771S L3773S, US Digital Media L4503M, Zweckform J8778, Zweckform L7760 and others.