Epson Stylus Photo R200 printer
Epson Stylus Photo R200 printer CD DVD tray layout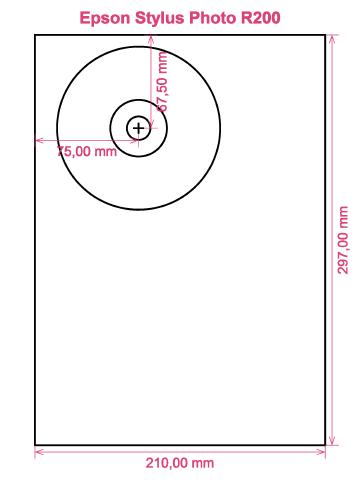 How to print labels on Epson Stylus Photo R200 printer
When you have only used the RonyaSoft CD Label Designer you will understand how effective and wonderful it is - 'user convenient' takes on a whole new meaning! Within seconds of swiftly downloading the CD labeler software after using the download link, you will be printing off great Blu-Ray CD DVD labels and covers with your Epson Stylus Photo R200 printer.
Yet that's not all that's on offer with this fantastic CD label design software. RonyaSoft may have made this software as obvious as possible to use, but the prints would suggest differently when you see the quality of printed CD or DVD labels. This CD, DVD & Blu-ray labels software has options galore for printing top quality labels! Yet for printing CD, DVD & Blu-ray labels isn't all when you know you can make CD, DVD & Blu-ray case inserts and case covers too and notice RonyaSoft have a selection of templates you can use.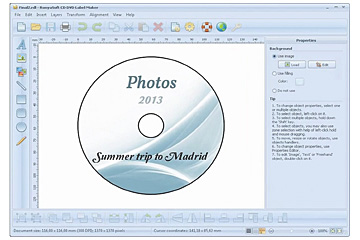 How clever do you like labeling to be? A few clicks of a mouse is enough for you to then be printing your own Blu-ray labels, CD, DVD and Blu-ray case covers and CD/DVD case inserts. You don't require to be a genius to 'click' with this simple to download labels printing software, just try it and see for yourself!
Hit the 'Download' button and installation for the CD and DVD labeler software program is automatic.
Try out one of the designed CD and DVD label and covers templates.
Add any of your own design ideas to create the CD and DVD label extremely personal.
Click on the 'Print' button to start running off your unique CD printed labels after you have entered Epson Stylus Photo R200 in to the print settings dialog. Don't forget to check that the latest printer driver is installed.
Smile!
All you need to turn your PC and Epson Stylus Photo R200 printer in to a busy personal gift factory is a little imagination.
Have you ever noticed how a personally made gift really matters to someone you like? Why spend money on pricey, presents that anyone can buy, when with the RonyaSoft CD label make software, you can save a fortune on gifts and become ten times more thoughtful?
Think about these for suggestions:
You're at a wedding and you take loads of un-staged photos or video clips of attendees looking relaxed and having a ball. Select your favorites, burn them on to a disc and give it to the bride and groom as a thank you for the invitation to their special day. They will adore you for the sweet and personal touch. And what did it cost you to produce one of the most unique offerings they will be given during their wedding? - The money for a blank disc, a couple of pieces of paper and a drop of ink from your Epson Stylus Photo R200 printer. Great huh?
Use vibrant images and snaps to to make CD, DVD and Blu-ray case covers or make Blu-ray labels to easily pick out your CD's and DVD's.
Do you love being clever? Why not make new styles for the CD & DVD covers for your collection?
What happens if you have your laptop and memory stick damaged - where are all your photos kept? Make doubly safe you don't lose all treasured memories of those moments in your life - just print off some cool CD labels, burn your photos on to a disc and put everything safely where you can see it.
Are you looking for a novel way to make you stand out when applying for employment. Do you need to seem different from the rest of the competition. Do you need to impress your potential employers with a showcase of yourself on a DVD with an excellent printed DVD insert and printed DVD box designed for each application?
RonyaSoft CD Label Designer is the best software addition to operate with your Epson Stylus Photo R200 printer so download it today and get those stylistic juices flowing!
Blu-ray label creation software works on Windows System, including latest Windows 7 and Windows 8 versions and supports a wide range of CD/DVD/Blu-ray label printers, including: Canon iP3000, Canon iP6700D, Canon MG5370, Canon MP630, Epson Artisan 730, Epson Expression XP-600, Epson Stylus Photo PX710W, Epson Stylus Photo R280, Epson Stylus Photo RX595, Epson Tray Type #2, HP Photosmart C5373, HP Photosmart D7560, Yurex MantraJet 1100 and similar.
Blu-ray label print software supports a wide range of CD/DVD/Blu-ray label stocks, including: Ace 50400 series, APLI 10293, Avery L6046, CD Stomper 2-up CD DVD with Center Labels, CoolBeLa LD002-CL, Herma, JP CD DVD 3-up, Maxell J8761, Mirage CD DVD, Polyline CD458G, Unistat CD DVD 2-up, Zweckform 6115, Zweckform L7676 and similar.