Canon iP5300 printer
Canon iP5300 printer CD DVD tray layout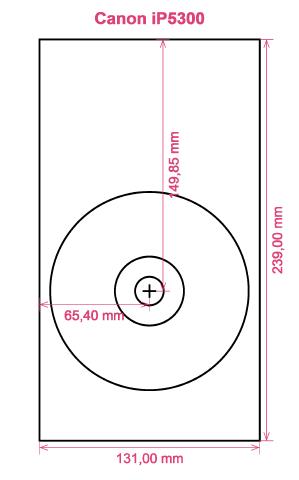 How to print labels on Canon iP5300 printer
After you have only used the RonyaSoft CD & DVD Cover Creator you can understand how simple and easy it is - 'user convenient' takes on a totally new understanding! Within a few moments of swiftly downloading the CD & DVD labeller software by clicking on the link, you can be making CD and DVD labels and covers on your Canon iP5300 printer.
Whatever you do don't stop there, as you may miss the bigger point of your new CD label making program. RonyaSoft haven't gone to such extremes simply so you can print off a list of tracks on a CD or a film title on a label. No! This CD & DVD label program will provide you so many alternatives for CD and DVD label making to allow you to create professional looking labels and covers. In addition, the CD & DVD label design software can also be used to create CD and DVD boxes and inserts using predesigned CD and DVD templates.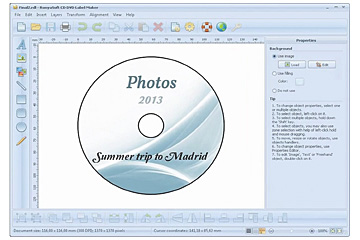 We also mentioned this software was fantastic to employ. Well, we know that if you sense you are not 'tech-savvy', after you have used the RonyaSoft CD DVD label creator program, you will feel as smart as any professional graphic artist after you start design loads of Blu-ray, CD or DVD case covers, CD DVD labels and Blu-Ray case inserts:
Download and install Blu-ray/CD/DVD Label Creator program for free to try.
Choose one of the installed Blu-ray/CD/DVD label and covers templates.
Start printing your individual DVD or CD label after clicking the 'Print' button, after inputting your Canon iP5300 as the right printer being used. Try to use the latest free driver updates.
Smile!
All it needs to turn your PC and Canon iP5300 printer in to a busy personal gift factory is a bit of imagination.
There is nothing nicer than getting a gift which demonstrates someone cares enough to make something special for you. Save on costly shop-bought presents and with your first gift to someone special you will have covered the cost of your RonyaSoft CD DVD and Blu-ray label program.
Have a go doing some of these:
You're at a wedding and you take loads of un-staged photos or video clips of attendees looking happy and having a ball. Pick your favorites, burn them on to a disc and send it to the bride and groom as a thank you for the invitation to their special day. They will love you for the thoughtful and personal touch. And what did it cost you to produce one of the most individual gifts they will get during their wedding? - The money for a blank disc, two pieces of paper and a dash of ink from your Canon iP5300 printer. Cool huh?
Use emotive photos to create Blu-ray, CD or DVD case covers or create CD DVD labels for your compilation CD's - thunder, sunshine, rain, a calm sea, a rainbow...
Want to store pics cataloged? Put a topical photo on the CD label or DVD box cover.
It's simple to store all your photos on your computer or a memory stick, but create a picturesque label to put on a CD or create a CD case cover and insert and create a physical library of all your memories.
Want to stand out from the crowd when anxiously trying to impress even before you have been offered a job interview? Create a fantastic looking CD DVD finished off with printed box cover, printed insert and printed label to make a brilliant memorable impression.
How many blank CD's have you lying around with something on them, yet you can't remember what? These days are now over when you use the RonyaSoft CD & DVD labeling software program to quickly and effectively run off a few labels on your Canon iP5300 printer.
DVD label print program supports Windows OS, including popular Windows 7 and Windows 8 versions and is compatible with a wide range of disc surface printers, including: Canon iP4300, Canon iP4850, Canon MG6120, Canon MP750, Canon Pro9500 MarkII, Epson PM890C, Epson Stylus Photo 950, Epson Stylus Photo R300, Epson Stylus Photo RX680, Epson Stylus Photo TX710W, HP Photosmart C5388, Primera Bravo, Yurex MantraJet 1100 and others.
DVD label print program supports a wide range of disc label suppliers, including: A-One CD DVD 29123, Avery 8694, Avery J8750, Boma LS001, DECAdry OLW-4824 CD DVD (old format), Dummy CD Insert, Label Me L-LMCD, Lorenz Bell LB6074, Neato CD DVD Plus, Printec AnyLabel L3771 L3773, Ryman, WriteAway CD DVD, Zweckform L6117 and others.