Canon iP4850 printer
Canon iP4850 printer CD DVD tray layout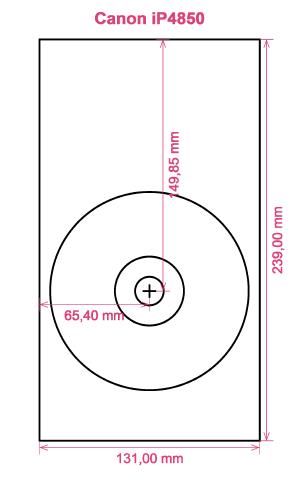 How to print labels on Canon iP4850 printer
When you have tried the RonyaSoft DVD Cover Maker, easy will be the word that comes to mind - you'll surely be thrilled at how uncomplicated it is to download the label design software programme by clicking on the link below and within just a couple of ticks you will be producing professional-looking CD or DVD labels on your Canon iP4850 printer.
Don't stop there though as there's plenty to this CD and DVD labeler software than first meets the eye. Simple and easy to use doesn't produce simple results, but more professional style CD and DVD labels than you would expect. This compact disc label maker software gives you masses of choices and has so many choices of CD and DVD label and cover templates already installed, not just for making CD DVD labels, but also CD and DVD box covers and box inserts to round off the professional look.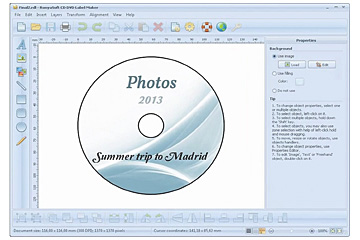 How simple do you need label creation to be? A few clicks of a mouse is enough for you to then be producing your own CD labels, CD/DVD box covers and Blu-Ray box inserts. You don't require to be a genius to 'click' with this simple to download label making software, just have a go and see for yourself!
Click on the 'Download' button and installation for the CD and DVD labeler software is automatic.
Opt for your favorite design from any of the great CD label and cover templates.
Add any of your own design ideas to print the CD or DVD label extremely personal.
Start printing your unique DVD or CD label after clicking the 'Print' button, after inputting your Canon iP4850 as the correct printer being used. Try to use the latest free driver updates.
Smile!
Enhance the potential of your computer and Canon iP4850 printer where you can now print a fantastic array of CD and DVD labels, box inserts and box covers, to make lovely presents.
Anyone will tell you that a gift with an unique touch, something sweet, will normally be appreciated far more than something costly, so you will have more than paid for your DVD label and cover create software, the first time you give someone a present.
Think about these for possibilities:
You are at your brother or sister's eighteenth. It is an incredibly special day in their life and one they will forever think about when they are older. What better way to assist them reminisce about their special day than for you to take hundreds of pictures and video clips of the day, from start to finish, put them all on a CD or DVD and present it to them as your own way of demonstrating how proud you are of them. It will enhance the day for them and it will have cost you next to nothing, save for two bits of paper, a blank CD or DVD and a dash of ink from your Canon iP4850 printer.
Use jazzy images and snaps to to make Blu-ray, CD or DVD box covers or make CD labels to easily pick out your CD's and DVD's.
Want to keep pics cataloged? Put a appropriate photo on the CD label or DVD box cover.
Memories shared usually last longer - download your pics of a party on to a CD and make a label, cover and insert, then present to all who were attending!
Want to stand out from the masses when anxiously trying to impress even before you have been offered a job interview? Produce a superb looking CD complete with printed box cover, printed insert and printed label to make a brilliant memorable impression.
The RonyaSoft DVD Cover Maker is superb for using with your Canon iP4850 printer, so there's nothing to stop you today from starting your own little print shop!
CD label maker software is compartible with Windows System, including Windows XP, Windows Vista, Windows 7 and supports a wide range of disc surface printers, eg: Canon iP4600, Canon MG5240, Canon MG6350, Canon MG8250, Epson Artisan 710, Epson PM-G700, Epson Stylus Photo 900, Epson Stylus Photo R230, Epson Stylus Photo TX700W, HP Photosmart C5240, HP Photosmart C5393, HP Photosmart D5460, Yurex MantraJet 1050 and similar.
CD label print software supports a wide range of disc labels, eg: APLI 10039, Avery 8832, Boma LD001, CD Stomper CD DVD Label Insert Combo, DECAdry OLW-4824, Hisago CJ2847S, Intcomex Klip Xtreme, LabelWhiz LW50400 3-up, Online Labels O5625, Polyline UZCD458IG, Uline US CD DVD 2-up S-8077, Zweckform 6115, Zweckform L6117 and similar.