Epson Artisan 730 printer
Epson Artisan 730 printer CD DVD tray layout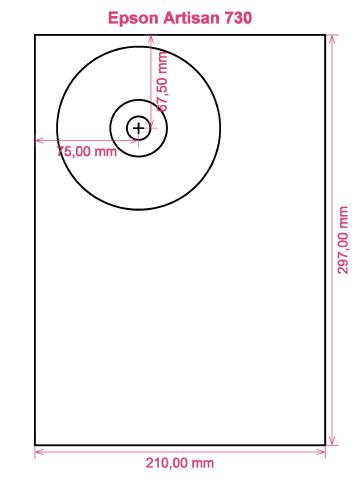 How to print labels on Epson Artisan 730 printer
Once you have successfully operated the RonyaSoft CD & DVD Cover Designer, simplicity will be the word that springs to mind - you'll surely be amazed at how quick it is to download the labels making software program by clicking on the link on this page and within just a couple of ticks you will be printing fantastic CD or DVD labels on your Epson Artisan 730 printer.
Hold on as there's much more to this Blu-ray, CD or DVD labeller software than first meets the eye. Simple and easy to use doesn't mean simple results, but more professional appearing Blu-ray, CD or DVD labels than you would expect. This CD label designer program gives you loads of choices and has plenty of Blu-ray, CD or DVD label and cover templates already installed, not just for printing CD/DVD/Blu-ray labels, but also CD and DVD box covers and box inserts to round off the professional look.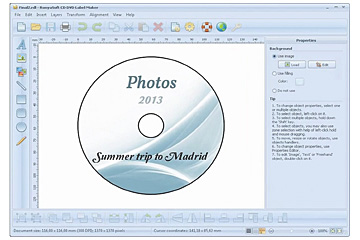 And as for straightforward to use, well 'user-friendly' just got even more friendly. Just use the instructions to realize how easy, yet effective and professional results will be when you begin to create Blu-ray, CD or DVD box covers, CD labels and Blu-Ray box inserts:
Download and install Blu-ray/CD/DVD Label Designer software for free to try.
Click on your chosen option from a great choice of preinstalled CD DVD label and covers templates.
Add any of your own design ideas to print the CD /DVD/Blu-ray labels extremely personal.
Click on the 'Print' button to commence your unique CD and DVD printed label after you have entered Epson Artisan 730 in to the print settings dialog. Do not forget to ensure that the latest printer driver is downloaded.
Enjoy!
The RonyaSoft label making software uniquely gives you and your Epson Artisan 730 printer so much you could desire for personalizing so many great CD or DVD gifts.
There is nothing nicer than receiving a gift which demonstrates someone cares enough to make something special for you. Save on costly shop-bought presents and with your first gift to someone special you will have covered the cost of your RonyaSoft CD DVD labeller program.
How about these wonderful suggestions:
You are at your brother or sister's twenty-first birthday. It is an incredibly special day in their life and one they will fondly think about when they are older. What smarter way to assist them reminisce about their special event than for you to take loads of pictures and video clips of the event, from start to finish, set them all on a CD or DVD and give it to them as a unique way of showing how proud you are of them. It will enhance the day for them and it will have cost you next to nothing, save for two bits of paper, a blank CD or DVD and a dash of ink from your Epson Artisan 730 printer.
Use funky images and pics to to create Blu-ray, CD or DVD box covers or create CD labels to easily pick out your CD's and DVD's.
Use a photo of your pooch or cat on the cover and CD & DVD label so you can easily identify which CD your pet's photos are all compiled.
Memories shared always last longer - download your pics of a party on to a CD and print a label, cover and insert, then send to all who were attending!
Keen to stand out from the throng when desperately wanting to impress even before you have been offered a job interview? Make a professional looking CD DVD rounded off with printed case cover, printed insert and printed label to make a brilliant memorable impression.
RonyaSoft CD & DVD Cover Designer is the ideal software addition to operate with your Epson Artisan 730 printer so download it today and get those stylistic juices flowing!
DVD label creator program supports Windows OS, including Windows XP, Windows 2003, Windows7 and is compatible with a wide range of CD/DVD/Blu-ray surface printers, eg: Canon iP4820, Canon iP6700, Canon MG6120, Canon MG8270, Epson Artisan 50, Epson PM890C, Epson PM-G800, Epson Stylus Photo R290, Epson Stylus Photo TX700W, HP Photosmart C5200 series, HP Photosmart C5383, HP Photosmart D5168, Yurex MantraJet 1050 and others.
DVD labels printing program supports a wide range of CD/DVD/Blu-ray label stocks, eg: Anker CD DVD, Avery 6692, Avery L6015, Boma LS101HIG, CoolBeLa LD007 CD DVD, Emerald 5511 650 TC CD DVD, HP CDX-8040A, LabelGear Bulk CD DVD 81312, Pimaco, ProLabel N4520, ProLabel SJG4525, Zweckform C9780 DVD, Zweckform L6117 and others.