Epson Stylus Photo R230 printer
Epson Stylus Photo R230 printer CD DVD tray layout
How to print labels on Epson Stylus Photo R230 printer
After you have correctly used the RonyaSoft CD & DVD Cover Maker you can understand how effective and straightforward it is - 'user friendly' takes on a whole new understanding! Within just a couple of minutes of installing the CD & DVD labeler software program after using the download link, you will be printing off brilliant CD and DVD labels using your Epson Stylus Photo R230 printer.
However that's not all that's available with this fantastic CD label printing software. RonyaSoft may have made this software as simple as possible to use, but the results would suggest differently when you see the standard of printed CD and DVD labels. This CD, DVD & Blu-ray label software has ideas galore for creating professional and classy labels! However for creating CD, DVD & Blu-ray labels isn't all when you know there are CD, DVD & Blu-ray inserts and covers too and discover RonyaSoft have a load of templates you can use.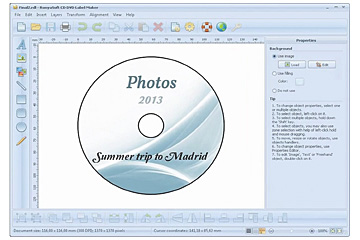 Concerning easy to use, well 'user-friendly' became even more friendly. Just follow the text to discover how easy, yet clean and professional results will be when you start to print Blu-ray, CD or DVD covers, CD labels and Blu-Ray/CD/DVD inserts:
Click on the 'Download' button and installation for the Blu-ray/CD/DVD labeling program is automatic.
Opt for your favorite design from any of the preloaded CD label templates.
Start printing your specially designed CD label after clicking the 'Print' button, after inputting your Epson Stylus Photo R230 as the proper printer being used. Always download the latest free driver updates.
Be proud of yourself for what you have printed off!
Improve the potential of your computer and Epson Stylus Photo R230 printer where you can now produce a fantastic array of Blu-ray/CD/DVD labels, inserts and covers, to make lovely surprises.
Anyone will tell you that a gift with a personal touch, something sweet, will forever be appreciated far more than something purchased, so you will have more than paid for your CD & DVD label design software, the first time you give someone a present.
What about making some of these:
Life is all about memories, and several of the greatest ones we have are of family days spent together. Everyone has a camera and everyone has their own set of pictures, but what joy to make a assembly of the 'best of' photos from everyone and then print a few copies on to a compact disc, create your own special labels and covers using the RonySoft label printing software for CD's, DVD's and Blu-rays and your Epson Stylus Photo R230 printer and send them as a surprise gift to each member of the family who was present.
Use mood photos to make Blu-ray, CD or DVD covers and make CD labels for your compilation CD's - thunder, sunshine, rain, a calm sea, a rainbow...
Use a pic of your pooch or cat on the cover and CD and DVD label so you can easily see which CD your pet's photos are all stored.
What occurs if you have your laptop and memory stick stolen - where are all your photos put? Make extra certain you don't lose all recorded memories of those occasions in your life - just print off some cool CD labels, burn your pics on to a disc and keep everything sensibly where you can see it.
Keen to stand out from the masses when anxiously wanting to impress even before you have been offered a job interview? Create a fantastic looking DVD complete with printed box cover, printed insert and printed label to make a great impression.
The RonyaSoft CD & DVD Cover Maker is ideal for using with your Epson Stylus Photo R230 printer, so there's nothing to stop you today from becoming your own ideal print shop!
CD DVD labeling software works on Microsoft Windows Operational System, including Windows XP, Windows Vista, Windows 7 and supports a wide range of CD DVD label printers, eg: Canon iP4740, Canon iP5200R, Canon MG6150, Canon MP640, Canon Pro9500 MarkII, Epson Expression XP-605, Epson Stylus Photo PX700W, Epson Stylus Photo PX830FWD, Epson Stylus Photo RX685, EZ CD Print Plus, HP Photosmart D5145, HP Photosmart D5400 series, Yurex MantraJet 1150-XL and similar.
CD DVD label make software supports a wide range of CD DVD label suppliers, eg: A1Pro 3-up, APLI 10292, Avery 8962, Compulabel 312660, Compulabel 375052, DeskTop Labels 3303-CD CD DVD Labels, Kyso 5511 CD DVD, Lorenz Bell LB6082, Online Labels O5025, Plain Paper, Sanwa LB-CDR010 CD DVD, Zweckform 6074, Zweckform L6047 and similar.