Canon PRO-100 printer
Canon PRO-100 printer CD DVD tray layout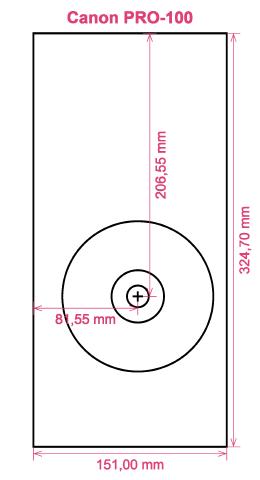 How to print labels on Canon PRO-100 printer
Only when you have had a go with the RonyaSoft DVD Label Maker that you will discover how incredibly simple it is to get great results finishes - no longer will you worry about failing to make the most of modern technology! Within no time at all of starting to use your DVD labeler software programme you will be printing CD or DVD labels on your Canon PRO-100 printer.
Please don't turn off there, as you may be missing the larger picture for your new CD label making software. RonyaSoft haven't gone to such extremes simply so you can print off a list of tracks on a CD or a film title on a label. No! This CD & DVD label maker software will provide you so many different options for Blu-ray, CD or DVD label creation to allow you to create professional looking labels. In addition, the CD & DVD label making software can also assist you to make Blu-ray, CD or DVD cases and inserts with the help of predesigned Blu-ray, CD or DVD templates.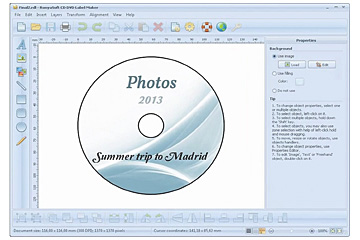 We also said this software was simple to use. Well, we realize that if you feel you are not 'tech-aware', when you have tried the RonyaSoft CD & DVD label maker software, you will feel as smart as any professional graphic artist when you begin making lots of CD/DVD/Blu-Ray case covers, DVD labels and CD/DVD case inserts:
Click on the 'Download' button and installation for the Blu-ray/CD/DVD labeler software is automatic.
Choose your favorite design from any of the great CD DVD label and covers templates.
Start printing your individual CD and DVD label after clicking the 'Print' button, after identifying your Canon PRO-100 as the right printer being used. Try to download the latest free driver updates.
Smile!
The RonyaSoft label making software uniquely gives you and your Canon PRO-100 printer so much you could need for personalizing so many great CD or DVD surprises.
Have you ever noticed how a personally made gift really matters to someone you like? Why spend money on pricey, presents that anyone can buy, when with the RonyaSoft DVD label and cover design software, you can save a fortune on gifts and seem ten times more thoughtful?
Have a go doing some of these:
Life is all about memories, and some of the memorable ones we have are of family days spent together. Everyone has a camera and everyone has their own set of pictures, but what fun to make a assembly of the 'best of' photos from everyone and then create a few copies on to a CD, make your own special labels and case covers using the RonySoft label printing program for CD's, DVD's and Blu-rays and your Canon PRO-100 printer and give them as a surprise gift to each member of the family who was present.
Use vibrant images and pics to to make CD/DVD/Blu-Ray case covers or make DVD labels to easily spot your CD's and DVD's.
Need to keep snaps cataloged? Put a topical photo on the compact disc label or DVD box cover.
It's easy to store all your photos on your computer or a memory stick, but print a fantastic label to put on a CD or create a CD box cover and insert and establish a physical library of all your memories.
Are you looking for an individual way to make you stand out when applying for jobs. Do you have to seem superior from the rest of the applicants. Do you want to shock your prospective employers with a demonstration of yourself on a DVD with a classy printed DVD insert and printed DVD box specifically for each application?
RonyaSoft DVD Label Maker is the best software extra to employ with your Canon PRO-100 printer so download it instantly and get those stylistic juices flowing!
DVD labeller software is compartible with Windows Operational System, including latest Windows 7 and Windows 8 versions and works with a wide range of disc surface printers, including: Canon iP4720, Canon iP5000, Canon MG6340, Canon MP780, Epson Artisan 710, Epson PM-D750, Epson Stylus Photo 1500W, Epson Stylus Photo R265, Epson Stylus Photo RX700, HP Photosmart C309a, HP Photosmart C5280, HP Photosmart D5400 series, Yurex MantraJet 1150-XL and similar.
DVD label design software supports a wide range of disc label providers, including: A-One, Avery 5931, Avery L6047, Chenbro, Compulabel 375052, D-Tech CD DVD, HP Tattoo, Lorenz Bell LB6074, Online Labels O5025, ProLabel CD458, Sanwa LB-CDR007 CD DVD, Veriad VH577 JP582, Zweckform L7678 and similar.