Canon iP4720 printer
Canon iP4720 printer CD DVD tray layout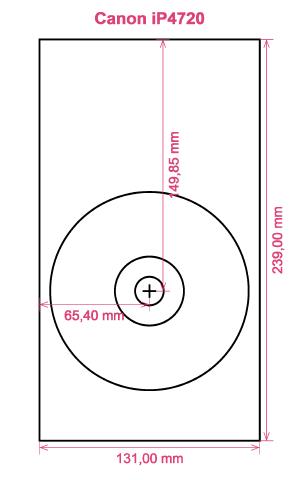 How to print labels on Canon iP4720 printer
It's after you have tried the RonyaSoft CD & DVD Label Designer that you can discover how incredibly simple it is to get great results finishes - no longer will you have any fears of not being able to make the most of modern technology! Within seconds of starting to use the CD & DVD labeler software program you should be printing CD or DVD labels on your Canon iP4720 printer.
Wait as there's loads to this Blu-ray, CD or DVD labeller software than instantly meets the eye. Simple and easy to use doesn't create simple copy, but more professional appearing Blu-ray, CD or DVD labels than you would expect. This disk label printer software gives you loads of choices and has plenty of Blu-ray, CD or DVD label and cover templates already installed, not just for making CD DVD labels, but also CD, DVD & Blu-ray case covers and case inserts to produce the professional look.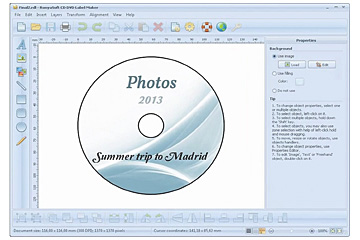 How clever do you like labeling to be? A few clicks of a mouse is enough for you to then be producing your own CD labels, CD, DVD and Blu-ray case covers and Blu-Ray DVD case inserts. You don't have to be a boffin to 'click' with this simple to download label printing software, just try it and see for yourself!
Download and install Blu-ray/CD/DVD Label and Cover Designer program for free to try.
Try out one of the predesigned Blu-ray/CD/DVD label and cover templates.
Print the designed label by clicking the 'Print' button. Do not forget to put in your Canon iP4720 printer during the design process and to use the latest free version of the driver.
Smile!
The RonyaSoft label making software immediately gives you and your Canon iP4720 printer so much you could need for personalizing so many great CD or DVD surprises.
Anyone will tell you that a gift with an unique touch, something thoughtful, will normally be appreciated far more than something costly, so you will have more than paid for your CD & DVD label print software, when you give someone a present.
What about these for ideas:
You're at a wedding and you take lots of un-staged photos or video clips of attendees looking happy and having a ball. Select your best, burn them on to a disc and send it to the bride and groom as a thank you for the invitation to their special day. They will love you for the kind and personal touch. And what did it cost you to create one of the most kind gifts they will have received during their wedding? - The money for a blank disc, two pieces of paper and a dash of ink from your Canon iP4720 printer. Great huh?
Chose your nicest photos and pictures to design CD/DVD case covers and design CD labels.
Do you love being clever? Why not create new styles for the CD & DVD covers for your collection?
It's safer to store all your pics on your computer or a memory stick, but create a fantastic label to put on a CD or create a CD box cover and insert and make a physical library of all your memories.
Are you searching an individual way to make you stand out when applying for employment. Do you have to seem better from the rest of the them. Do you need to wow your prospective employers with a presentation of yourself on a DVD with a classy printed DVD label and printed DVD case specifically for each application?
How many blank CD's have you lying around with pictures on them, yet you can't remember what? These days are now long gone when you utilise the RonyaSoft CD & DVD label make software to swiftly and easily run off a few labels using your Canon iP4720 printer.
CD DVD labeller software runs on Microsoft Windows OS, including popular Windows 7 and Windows 8 versions and is compatible with a wide range of CD/DVD/Blu-ray surface printers, eg: Canon iP4720, Canon iP4940, Canon MG5350, Canon MG8240, Epson Artisan 710, Epson PM-980C, Epson Stylus Photo PX800FW, Epson Stylus Photo R300, Epson Stylus Photo R390, EZ CD Print 6500, HP Photosmart C5393, HP Photosmart D7560, Yurex MantraJet 1100 and others.
CD DVD labels maker software supports a wide range of CD/DVD/Blu-ray label papers, eg: Americal 313911, Avery 8931, Avery L6044, Boma LS101HIG, Compulabel 375052, Hisago CJ2847S, Hisago CJ4843S CD DVD (A5), LabelGear Bulk CD DVD 81312, MultiFlip LD001, Polyline CLCDW, Sanwa Supply, Zweckform C9660, Zweckform L6047 and others.