Canon MG6230 printer
Canon MG6230 printer CD DVD tray layout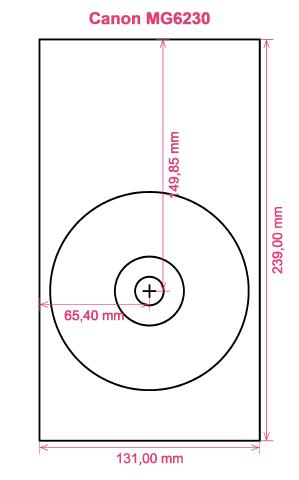 How to print labels on Canon MG6230 printer
After you have actually used the RonyaSoft DVD Label Creator you can understand how simple and straightforward it is - 'user friendly' takes on a whole new meaning! Within just a couple of minutes of swiftly downloading the DVD label software program after using the download link, you will be running off brilliant CD and DVD labels using your Canon MG6230 printer.
Hold on as there's plenty to this Blu-ray, CD or DVD labeling software than instantly meets the eye. Simple and easy to use doesn't produce simple results, but more professional looking Blu-ray, CD or DVD labels than you would expect. This disk label printer program gives you masses of choices and has loads of Blu-ray, CD or DVD label and cover templates already installed, not just for creating CD DVD labels, but also Blu-ray, CD or DVD box covers and box inserts to round off the professional look.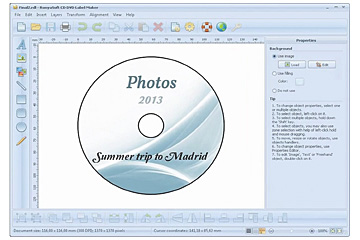 We also indicated this software was simple to work with. Well, we understand that if you sense you are not 'tech-aware', when you have tried the RonyaSoft CD & DVD labels creator program, you will feel as clever as any professional graphic artist as you start creation plenty of Blu-ray, CD or DVD box covers, CD labels and Blu-Ray CD box inserts:
Download and install Blu-ray/CD/DVD Label & Cover Creator software program for free to try.
Click on your chosen option from a fantastic choice of predesigned Blu-ray/CD/DVD label templates.
Add any of your own design ideas to make the CD and DVD labels really personal.
Print the new label by clicking the 'Print' button. Never forget to indicate your Canon MG6230 printer during the setup process and to use the latest free version of the driver.
Smile!
The RonyaSoft label making software uniquely gives you and your Canon MG6230 printer so much you could need for personalizing so many great CD or DVD presents.
Have you ever noticed how a personally made gift really matters to someone you love? Why spend money on expensive presents that anyone can buy, when with the RonyaSoft DVD labels making program, you can save a fortune on gifts and seem ten times more thoughtful?
Try doing some of these:
You're at a wedding and you take lots of un-staged photos or video clips of attendees looking cheerful and having a great time fun. Select your favorites, burn them on to a disc and send it to the bride and groom as a thank you for the invitation to their special day. They will remember you for the thoughtful and personal touch. And what did it cost you to produce one of the most individual presents they will get during their wedding? - The cost of a blank disc, few pieces of paper and a splash of ink from your Canon MG6230 printer. Great huh?
Chose your nicest photos and snaps to make CD and DVD box covers or make CD labels.
Need to keep photos cataloged? Put a topical photo on the compact disc label or DVD case cover.
It's easy to store all your pics on your computer or a memory stick, but design a memorable label to put on a CD or create a CD box cover and insert and make a physical library of all your memories.
Are you seeking a new way to make you stand out when applying for jobs. Do you want to seem different from the rest of the applicants. Do you need to wow your prospective employers with a presentation of yourself on a DVD with a classy printed DVD insert and printed DVD case designed for each application?
RonyaSoft DVD Label Creator is the ideal software extra to employ with your Canon MG6230 printer so download it instantly and get those imaginative creative juices flowing!
DVD labelling program works on Windows System, including latest Windows 7 and Windows 8 versions and supports a wide range of CD DVD label printers, eg: Canon iP4820, Canon iP5300, Canon MG5350, Canon MG8170, Canon MP970, Epson PM-930C, Epson Stylus Photo PX660, Epson Stylus Photo R265, Epson Stylus Photo RX700, Epson Stylus Photo TX720WD, HP Photosmart C5324, HP Photosmart D5360, Trace Affex CD-Artist and similar.
DVD labels printing program supports a wide range of CD DVD label providers, eg: Ace 61300 series, Avery 6691, Big W, Chenbro, DECAdry DLW-1824, Diamond D7660S, IBM, Lorenz Bell LB6043, Online Labels O5025, PressIt, SureThing US CD DVD 2-up, Zweckform J8770, Zweckform L6117 and similar.