cd dvd label maker tutorials
How to organize extensive home collection of CD and DVD disks which you burnt on your own? Are you thick and tired from disk mess on shelves and desktop? Then learn how to make DVD cover and CD cases with simple yet effective RonyaSoft CD DVD Label Maker. Here is a list of links to make CD inserts, disk labels, informative DVD covers, durable cases and great sleeves for all types of disks in your collection!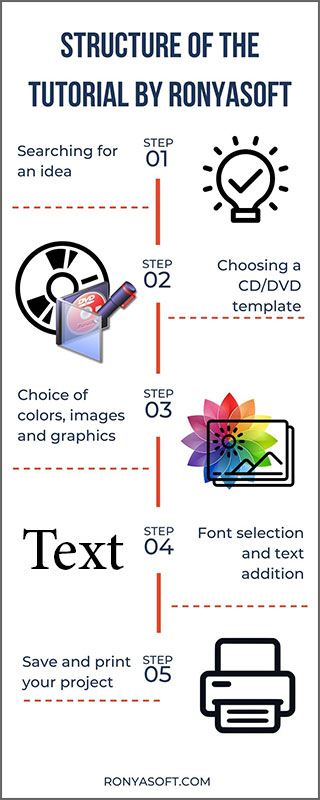 Why to make DVD cover and print CD label at home?
Wholesale CD DVD disks commonly come in a single pack with no covers, sleeves, cases or envelopes for every disk. Improper disk keeping leads to disk surface damaging and thus this can turn the data on any disk unreadable and lost. This does not matter much if it goes about your favorite movie or song or tunes collection.
But what about sweet memories of first walk of your kid, photos of wedding, happy birthdays or other memorable events of your life? What would you do if you accidentally would damage a disk keeping the only copy of a report or research work? To avoid any of these painful cases learn how to make a DVD cover or customized CD case with RonyaSoft CD DVD label maker!
Three reasons to print CD label at home
Fast and easy way to manage your disk set and to get relevant data printed on CD cases and DVD covers. The CD DVD covers are reprintable. With RonyaSoft CD DVD label maker you will print CD label, CD cases or DVD covers at any time you need.
It faster and cheaper than purchasing custom CD DVD labels and paper or plastic covers and to write titles by hand.
With RonyaSoft CD DVD Label Maker you develop your own design and decide how much data will be on CD case or label on your own. In such a way you will organize your collection and differentiate disks by content: studying, work, movie, music, pictures. Creating various designs for various disk content you will make your disks recognizable. Search for a certain disk will be faster and simpler as you will know for sure what type of content is stored on every single disk from your collection.
How to make DVD cover?
There are hundreds of tutorials on the web offering ideas of how to make DVD cover effortlessly. Most of them result in useless, non-durable CD cases or DVD covers, waste of time, paper and efforts. Others require sound knowledge of specific design software as Photoshop which results in immense learning curve.
What we offer is a simple way of how to make DVD cover and get ready to production in 5 minutes after installation.
RonyaSoft CD DVD label maker features:
Fast and simple installation

– the application is ready to use right after installation. It does not require any additional setting.

Quick learning

– with a list of extensive tutorials, logic, clear and intuitive interface you will learn how to make DVD cover with RonyaSoft in 5 minutes.

Simple printing

– compatibility with most of popular printer brands and models allows you to make and print CD case, labels and covers in few clicks!