ronyasoft products
Label Software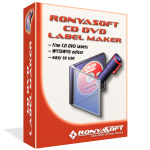 Software for creation and printing of disc labels and covers for your mp3 and video collections, photo archives and backups. Create and print CD labels and DVD covers with profesional Ronyasoft CD DVD Label Maker software. Make professional labels and covers yourself!
Poster Software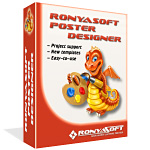 Design and print posters, banners and signs easily in few clicks. RonyaSoft Poster Designer software comes with a collection of 300+ free ready-to-use poster templates. Create a fine poster yourself!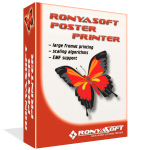 Print large format posters, banners, maps, wall murals and signs from any pictures, digital photos, Word, Excel documents on regular home or office printers. RonyaSoft Poster Printer software optimizes and cuts an image to print on A4 paper sheets. Print a great poster yourself!
Choose RonyaSoft software to achieve your goals

RonyaSoft offers design and printing solutions for any business, education or leisure task.
RonyaSoft CD DVD Label Maker is a software for creating and printing professional СD labels for disk collections. CD cover maker designs CD and DVD covers of all standard types and supports text, image and clipart inserting as well as optimizes the layout for printing. RonyaSoft CD DVD Label Maker is compatible with most CD label paper brands. You will also find origami envelopes and sleeves for protection of disks in your collection. These are printed on a standard A4 paper with fold lines.
RonyaSoft Poster Designer creates posters, signs, banners from over 300 of free customizable templates in few clicks. Poster maker offers the simplest intuitive drag and drop editor. The templates which come with poster maker are professionally designed so you can create stunning posters in minutes. Create attention catching posters and signs with zero efforts.
RonyaSoft Poster Printer designs posters and banners of any size and optimizes the layout to printing on standard A4 sheet format. Print posters of any size using regular printer! Poster printing software optimizes the poster parts in such a way, that that they have trims for gluing with each other. With RonyaSoft Poster Printer software you will print any size poster at the first try!