Buy poster printer
Order processing
Your order will be processed by PayProGlobal - the leading software registration and order-taking company. The order form is located on a secure server and all transactions are processed via the secure SSL protocol ensuring that your private data will remain confidential.
Buy online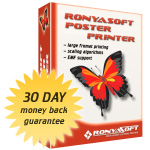 Instructions
Select the product, the license type and click the "Buy online" link to connect to the order processing center where you will be prompted for billing details.
Carefully fill out the registration form. A Home License is registered to the user's name. Business License could be registered to the user's name or to the company's name. Enterprise License is registered to the company's name.
Different types of licenses are available:
Home License is for noncommercial use only. With single license copy, you can install software on a single computer making it accessible for all computer users.
Business License allows commercial use of the software. Business Licenses are required for all types of businesses. With single license copy, you can install software on a single computer making it accessible for all computer users.
Enterprise License allows installing software on an unlimited number of computers at an unlimited number of locations within a single company or organization (both for-profit and non-profit) requiring software for general commercial use or for non-commercial purposes.
After you make an order, you will receive your registration key by e-mail within 5 minutes.
Money-back guarantee
We offer a 30-day money-back guarantee to make your purchase free of risk.
Additional information
If you have additional questions about orders, payments, delivery or if you have already ordered the software and would like to view data relating to your order, please visit our Support Center.
Do you need an unlimited number of licenses for RonyaSoft software? Want to distribute our software on CDs? Looking for a customized version of our software product?
Have any other questions? Please feel free to contact us here.
Thank you very much for using our product! We are sure that it will be helpful to you for a long time!
What is Poster Printer?
Poster Printer is user-friendly photo, poster and banner creation printing software. It is perfect for people who lack a little confidence when using a PC, but who have a frustrated creative streak. Poster creator is not a complicated graphic tool; it's an easy-to-use and quick solution. Poster creation software automatically divides an image and prints individual parts on separate pieces of paper, so you can then connect them all to create one large poster. It's that easy!
Buy poster maker online and print from different sources, whether they be image files, photos, excel spreadsheets, word documents, as well images direct from digital cameras and scanners. Poster creator can be used to create anything from posters, banners, family photograph collages, signs, stencils, wall murals, schematics and maps, etc. The list is never-ending!
Built-in enlargement software additions allow you to increase the size of images many times, but with minimal loss of quality. Bicubic, Hermite and Lanczos filters are available too. Buy poster maker online and print large format graphic in sizes up to 10m x 10m. Yes, that's right. 10m x 10m!
This photo, banner and mural printing software is compatible with all Windows operating systems, including the most recent versions, Windows 8 & 10. The banner program is compatible with standard printers, so you do not have to worry about buying a new one to make own posters. Large format plotters may also be used with this software too.
So what are you waiting for? Buy poster creator online now you can decorate your bedroom, or maybe the whole place, with your own unique posters. Your friends will be impressed and will soon be wanting you to do the same for them. Guaranteed!