What is Poster Printer?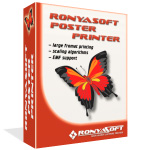 RonyaSoft Poster Printer software is intended for large format poster and banner printing, big sign and photo mural production.
No special plotters are required; a standard desktop printer will suit perfectly. Pictures, digital photos, Microsoft Word documents, Excel spreadsheets will be easily converted into multipage posters. It is possible to print a poster from a TWAIN-scanner or camera, too.
With proper knowledge and skills, you might use professional graphics software for cost-efficient poster printing. But why all the unpleasant routine when you've got Poster Printer, a convenient, easy-to-use application? Just select an image and the program will automatically enlarge it and divide into a proper number of pages. To make a poster, you will also need some glue, scissors and a bit of skill.
Print a great poster yourself! It could be your favorite picture or digital photo, a color banner, tables and graphics, and what not. Just use your imagination and prepare for creation. Your friends will be surely impressed by your own poster!
Features:
Poster projects support
Large format poster printing at sizes up to 10 x 10 m
Saving to pdf and images (jpg, png, tiff)
Image scaling algorithms (Bilinear, Bicubic, Hermite, Lanczos)
Raster and vector input graphics formats compatibility (bmp, gif, jpg, png, tif, wmf, emf)
TWAIN sources support (scanners and digital cameras)
Partial poster printing
Poster size templates
Metric and Imperial measurements (mm, cm, inch)
Amazing skins and multilingual GUI