What is RonyaSoft CD DVD Label Maker?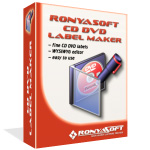 RonyaSoft CD DVD Label Maker is a software program for designing and printing of great-looking CD and DVD labels and covers. The CD label maker will help you to make your own CD and DVD covers for video and MP3 collections, family photo archives and data backups, prominent events and special gifts. With the CD label maker you won't grow bored of handwritten scribbles on your CD-Rs and DVD-Rs. It offers a perfect possibility to arrange your audio, music and data collections on CDs and DVDs.
Furthermore, using this CD labeling software you can even get rid of numerous plastic disc cases and clear some space for your new compact discs. And your friends will appreciate fine temporary paper sleeves when you give them your burned CDs or DVDs.
Easy-to-use software interface allows you to make disc labels in a few clicks. Just select one of pre-designed label templates, write a title and a description, and load a picture or write a track list if you wish. You may add any extra images, texts or shapes to your liking. Then define printer and paper settings and print using label stock and a standard printer or CD label printer. Your own label is ready. Finally, stick it on the disc with the help of a CD labeler.
Failed to find a pre-designed template tailored to your needs? No problem. The custom size template wizard helps you to create covers, labels and case inserts for non-standard and rare disc boxes. E.g. multi-disc box covers, Nintendo Wii covers, or PlayStation 3 covers.
Don't waste hours making labels and covers in complicated Photoshop-like applications. Create your own labels and covers instantly with the help of RonyaSoft CD DVD Label Maker!
Features:
Choice of pre-designed label and cover templates
Custom size template generator
Built-in clipart image gallery and background collection
WYSIWYG (What You See Is What You Get) object editor
Shadow, Outline and Gradient effects support
Circle, Arc, Wave and Perspective text support
Export to image and pdf formats
Popular label stock papers (Avery, PressIt, Neato, ...) support
Popular disc printers (HP, Canon, Epson, ...) support
Standard paper formats (A5, A4, A3, ...) support