Registration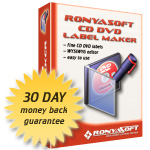 The demo version of the software adds watermarks to the output, except paper case templates.
You are welcome to register to make your version fully functional.
It takes two simple steps to register the application:
1. Buy a license
2. Enter the registration data
To make your purchase free of risk we offer a 30-day money-back guarantee.
Buying a license

Buy the full unlimited version of RonyaSoft CD DVD Label Maker via secure channel. The SSL (Secure Socket Layer) is used to transfer your data securely while processing your order.
Available payment option:
Credit Card
Bank/Wire Transfer
Solo/Switch/Maestro (for UK)
Check
Cash
Carefully fill out the registration form. The Software will be registered to your full name.
After you make an order, you will receive your registration key by e-mail within 5 minutes.
If you have questions about orders, payments, delivery, or if you have already ordered the software and would like to view data relating to your order, please visit our Customer Care Center, please.
Entering the registration data
Click the

Registration item in the Help menu. Registration dialog box will be opened.
Enter your full registration name and the key you received by e-mail in the appropriate fields.
Click the Register button to convert the trial version to the full unlimited version.
Enjoy!

Related topics: