CD Front Double Insert
CD Cover template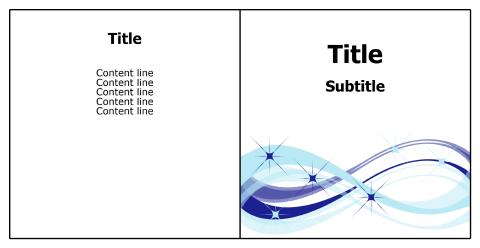 How to Make CD Covers
RonyaSoft CD cover maker is a PC application with pre-attached collection of CD covers, printable DVD covers, labels, inserts and paper cases. It is the simplest and cheapest way to organize your private disc collection. CD cover maker is easy to install and simple to use. Unlike many graphics editors this RonyaSoft application features low system requirements and does not require any special skills or knowledge. Anyone will be able to create great CD labels, DVD covers, inserts and even origami covers for your disc collection.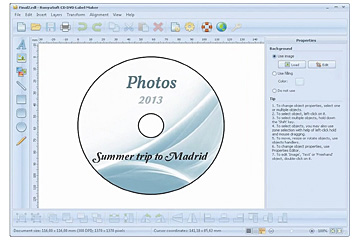 Where to get a template for CD cover?
Most users browse the web in search for CD cover template. You spend hours browsing various websites with CD DVD labels and covers templates, then searching for CD cover download button or link, following through many steps. In most cases you will get a useless picture of low quality which is impossible to edit or modify with any available editor. If you value your time and efforts, then this way of getting CD labels or covers is not for you.
What we offer is a simple tool to make DVD CD cover template with brand application. RonyaSoft CD cover maker offers a huge collection of CD DVD cover layouts and templates. You can use a pre-attached template for CD cover or to create CD DVD cover from scratch designing your own layout and editing every part you want. RonyaSoft CD cover software allows to change fonts, colors, text size, blocks of text, background color and transparency. You can even add your own pictures to an edited template for CD or DVD disc.
CD cover download is easy and simple. Just click a Free download button and get the application in few seconds. Run the installation and follow the tips to complete the setting of CD cover software. This is a free version of RonyaSoft CD cover tool. This trial version offers you a full set of functions to try and make sure this CD cover maker is right for you!
RonyaSoft full version is an affordable solution. Moreover there are no in-app purchases. You pay once and use all possible CD cover template collections as you want.
How to make CD covers?
You can make CD cover on your own from paper using ruler, pencil, marker ink pen or even colored pencils. The process of creating CD cover is time and effort consuming.
Advanced users may try to make CD DVD cover using standard graphics editors. But doing so, you need to consider all the parameters and then to adjust all other design elements of an edited template for CD cover to the size of the cover. Without setting proper size parameters you will get CD DVD covers which either will not fit the discs or the design elements will be on wrong places.
The simplest and the easiest way how to make CD covers is to use RonyaSoft CD cover maker. You will get access to hundreds of properly sized templates which will adjust all design elements to proper standards of CD DVD blu ray discs. Try the app now!
Disc case label maker software supports a wide range of disc label printers, including: Canon i865, Canon MG5240, Canon MG6220, Canon MG8170, Canon MP970, Epson PM-4000PX, Epson Stylus Photo PX810FW, Epson Stylus Photo R2000, Epson Stylus Photo R380, EZ CD Print 4200, HP Photosmart C5393, HP Photosmart D5468, Yurex MantraJet 1150-XL and others.
Disc label designer software supports a wide range of disc label suppliers, including: A1Pro 3-up, Avery 8699, Boma LD002-CL, Compulabel 312693, CoolBeLa LS001, DECAdry OLW-4901, Label+ Inline, LabelWhiz 62000, PC Line, PressIt, Staples, Xerox 3R6330, Zweckform L7776 and others.