Yurex MantraJet 1150-XL printer
Note: RonyaSoft does not sell Yurex® printers! The Yurex® brand, its product names and trademarks are owned by appropriate corporation. RonyaSoft offers CD DVD Label Maker software, that supports a lot of label printers, including some of the Yurex printers.
Yurex MantraJet 1150-XL printer CD DVD tray layout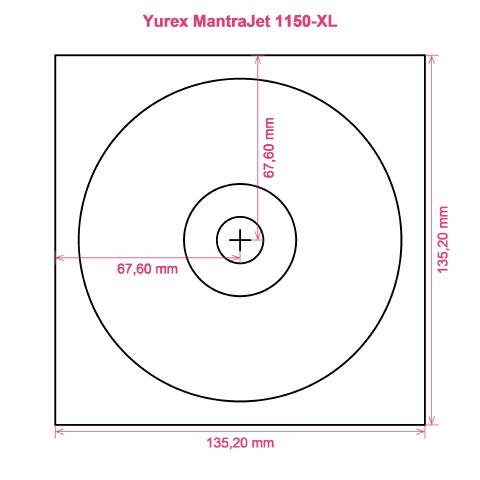 How to print labels on Yurex MantraJet 1150-XL printer
After you have only used the RonyaSoft CD DVD Label Maker you can understand how effective and straightforward it is - 'user convenient' takes on a whole new understanding! Within seconds of installing the CD DVD labels software program from the link below, you will be printing off brilliant Blu-Ray CD DVD labels on your Yurex MantraJet 1150-XL printer.
However don't turn off there, as you may miss the larger picture for your new CD/DVD label design software. RonyaSoft haven't gone to such measures simply so you can print off a list of tracks on a CD or a film title on a label. No! This CD & DVD label creator software will provide you so many choices for CD and DVD label making to assist you to make attractive labels. More than that, the CD & DVD label making software can also assist you to make CD and DVD cases and case inserts with the help of the brilliant CD and DVD templates.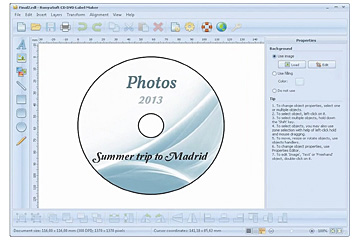 Concerning simple to use, well 'user-friendly' is now even more friendly. Just follow the instructions to understand how straightforward, yet effective and professional results will be when you start to make CD, DVD and Blu-ray case covers, CD labels and DVD case inserts:
To automatically receive your CD DVD label making software program, click on the 'Download' button.
Try out one of the predesigned CD DVD label and covers templates.
Add any of your own design ideas to print the CD or DVD label really personal.
Start printing your specially designed CD label after clicking the 'Print' button, after inputting your Yurex MantraJet 1150-XL as the proper printer being used. Always use the latest free driver updates.
Smile!
Everything you need to turn your PC and Yurex MantraJet 1150-XL printer in to a fabulous personal gift factory is a bit of imagination.
Have you ever noticed how a personally made gift really matters to someone you love? Why spend money on pricey, presents that anyone can buy, when with the RonyaSoft CD DVD label and cover printing software, you can save a fortune on gifts and become ten times more thoughtful?
Think about these for ideas:
You're at a wedding and you take lots of un-staged photos or video clips of everyone looking cheerful and having a ball. Choose your favorites, burn them on to a disc and send it to the bride and groom as a thank you for the invitation to their marriage. They will remember you for the thoughtful and personal touch. And what did it cost you to produce one of the most individual offerings they will get during their wedding? - The price of a blank disc, a couple of pieces of paper and a dash of ink from your Yurex MantraJet 1150-XL printer. Cool huh?
Use mood photos to make CD/DVD case covers or make CD labels for your compilation CD's - thunder, sunshine, rain, a calm sea, a rainbow...
Have to keep photos cataloged? Put a topical photo on the CD label or DVD case cover.
Memories shared usually last longer - download your photos of a night out on to a disc and make a label, cover and insert, then present to all who were attending!
Need to stand out from the throng when keenly trying to impress even before you have been offered a job interview? Produce a fantastic looking CD complete with printed case cover, printed insert and printed label to make a brilliant memorable impression.
The RonyaSoft CD DVD Label Maker is superb for using with your Yurex MantraJet 1150-XL printer, so there's nothing to stop you instantly from starting your own ideal print shop!
CD DVD labeller software supports Microsoft Program windows Operational System, such as Windows XP, Windows 2003, Windows7 and thus is compatible with many CD DVD label printers, eg: Brother MFC-J835DW, Canon iP6700, Canon MG6210, Canon MG7150, Canon MP960, Canon PRO-10, Epson Artisan 700, Epson Expression XP-800, Epson PM-980C, Epson Stylus Photo R200, Epson Stylus Photo RX585, HP Photosmart C5250, HP Photosmart D7500 series and thus others.
CD DVD label maker software Г©chine many CD DVD label providers , eg: Americal 313901 3-up, Avery 8699, Avery J6115, Boma LD001-HI, DECAdry DLW-1744, Ferrania Otijet Etiquettes, Hisago CJ4843S (A5), LabelWhiz LW61300 Full Face, Memorex 1 sided, Plain Paper CD DVD A4, PressIt Full Face (A4), Tinlex TL-Label-3A, Zweckform 6043 and thus others.