Full Face Label
DVD Label template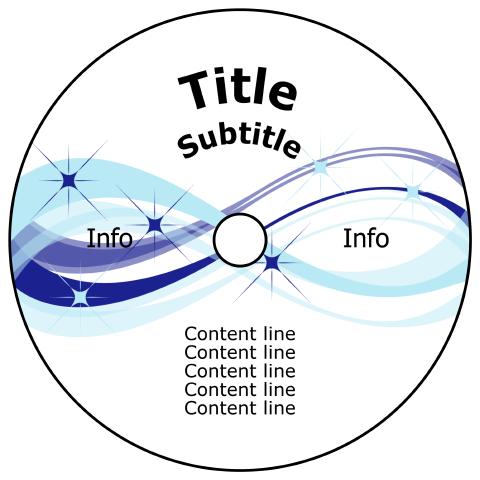 How to Print DVD Labels
DVD label maker from RonyaSoft is the best way to systematize and personalize DVD collection and create custom CD DVD labels for every disc, which you burn on your own. This DVD label template application provides you a tool kit for easy and fast creation of labels, covers, inserts, envelopes, paper covers and sleeves as well as of unique origami covers to organize your disc collection.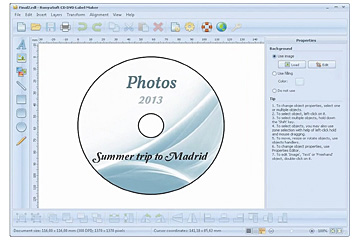 How to create DVD labels with RonyaSoft CD DVD label maker?
This CD DVD label maker is a simple tool to create custom DVD labels with few simple clicks.
Get the application and install it on your PC. Start the DVD label template software. Mind that this is a free version which offers a full set of functions to try from a full version of DVD label template creator. The full version is cheap and does not imply any additional expenses for new CD DVD label template collections.
Choose a desired layout among pre-attached DVD labels or create custom DVD labels upon your preferences. The DVD label template application allows you to edit colors, fonts, layouts, text size and backgrounds of custom DVD labels. Moreover you will be able to upload your personal pictures (for example, your family photos or summer vacation pictures) to edited CD DVD labels for ultimate personalization. Just imagine that discs wit your home movies will be labeled with pictures and snapshots taken from your real life!
Print DVD labels right from the application. Save edited CD DVD label template to use it again when you will need one more label for the next disc of the same type in your collection.
Why to create designs for DVD labels with RonyaSoft application?
Commonly do it yourself DVD labels designs are limited to letterings made with marker ink pen on a disk side. However lettering often get erased or worn down. Thus to find out what is on a disc you will need to start it on CD DVD player or your PC.
Stop wasting your time on searching for a necessary disc from your collection. If you use DVD template label application you will be able to print DVD labels which are:
Looking professional and personalized

- you can use snapshots from your favorite movies, custom movie posters and brand film studios pictures. Just design a new DVD label template and print DVD labels at home.

Durable

- as you print DVD labels on quality paper, accurately stick the DVD labels on discs using special applicator. Such CD DVD labels are durable and are securely stuck to disc surface. The printable CD DVD labels do not wear down, do not get erased, do not look similar.

Cost effective

- this DVD labels maker allows you to create printable DVD labels in few clicks, save projects, print DVD labels using your PC, printer and paper you use for daily routine.
RonyaSoft DVD label maker is a great solution for people having dozens of DVD discs burnt on their own: freelancers, students, office workers creating hundreds of presentations and visual reports for top management, partners and investors, people craving to save precious moments of home movies and make their movie collection special.
Blu-ray/CD label creator software supports a wide range of disc surface printers, including: Canon iP4810, Canon iP5000, Canon MG5330, Canon MP760, Custom Printer, Epson PM-980C, Epson Stylus Photo 960, Epson Stylus Photo R285, Epson Stylus Photo RX590, EZ CD Print 5700, HP Photosmart C5540, Rimage Everest II, Yurex MantraJet 1100 and similar.
Disc labeling software supports a wide range of disc labels, including: Ace 30700 series, Avery 5691, Avery J8676, Boma LS101, CoolBeLa LS101HIG, Herma, Kyso 5511 CD , Lorenz Bell LB6681, Neato Full Coverage CD 2-up, Printec AnyLabel L3771 L3773, Sanwa LB-CDR001 CD, Zweckform L6044, Zweckform L6047 and similar.