Epson Stylus Photo PX810FW printer
Note: RonyaSoft does not sell Epson® printers! The Epson® brand, its product names and trademarks are owned by appropriate corporation. RonyaSoft offers CD DVD Label Maker software, that supports a lot of label printers, including some of the Epson printers.
Epson Stylus Photo PX810FW printer CD DVD tray layout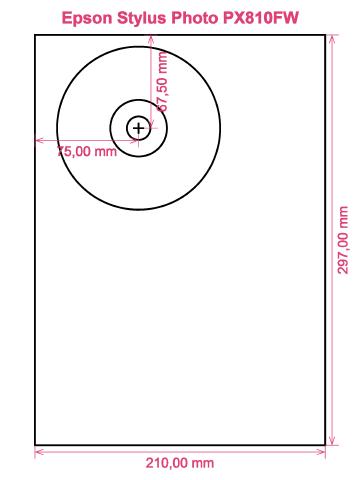 How to print labels on Epson Stylus Photo PX810FW printer
Once you have correctly used the RonyaSoft CD Label Designer you will understand how simple and straightforward it is - 'user convenient' takes on a whole new meaning! Within seconds of installing the CD labeller software programme from the link below, you will be printing off brilliant CD and DVD labels and covers on your Epson Stylus Photo PX810FW printer.
But that's not all that's available with this brilliant Blu-ray/CD/DVD label creation software. RonyaSoft may have made everything as easy as possible to use, but the prints would suggest differently when you see the quality of printed CD or DVD labels. This CD, DVD & Blu-ray label designer software has options galore for printing impressive labels! But for printing CD, DVD & Blu-ray labels isn't all when you know there are CD, DVD & Blu-ray inserts and covers too and discover RonyaSoft have a batch of templates you can use.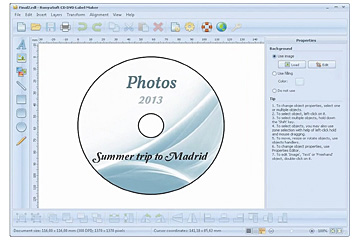 We also indicated this software was fantastic to work with. Well, we understand that if you sense you are not 'tech-savvy', when you have used the RonyaSoft CD and DVD label designer software, you will feel as clever as any professional graphic artist as you commence making lots of Blu-ray, CD or DVD covers, DVD labels and Blu-Ray DVD inserts:
To automatically download the CD DVD label making software program, click on the 'Download' button.
Choose your favorite design from any of the preloaded CD label and cover templates.
Click on the 'Print' button to start running off your unique DVD or CD printed labels after you have entered Epson Stylus Photo PX810FW in to the print settings dialog. Do not forget to ensure that the latest printer driver is installed.
Smile!
The RonyaSoft label making software instantly gives you and your Epson Stylus Photo PX810FW printer all you could desire for personalizing so many great CD or DVD gifts.
Anyone will tell you that a surprise with a personal touch, something sweet, will normally be appreciated far more than something costly, so you will have more than paid for your CD label and cover make software, as soon as you give someone a present.
Have a go making some of these:
You're at a wedding and you take loads of un-staged photos or video clips of all the guests looking relaxed and having a ball. Select your favorites, burn them on to a disc and post it to the bride and groom as a thank you for the invitation to their wedding. They will love you for the kind and personal touch. And what did it cost you to produce one of the most individual gifts they will be given during their wedding? - The price of a blank disc, a couple of pieces of paper and a dash of ink from your Epson Stylus Photo PX810FW printer. Great huh?
Use jazzy images and pics to to create CD & DVD covers or create DVD labels to easily pick out your CD's and DVD's.
Choose a pic of your pooch or cat on the cover and CD & DVD label so you can easily identify which CD your pet's photos are all compiled.
It's safer to store all your photos on your computer or a memory stick, but design a memorable label to put on a CD or create a CD box cover and insert and create a physical library of all your memories.
Want to stand out from the masses when desperately attempting to impress even before you have been offered a job interview? Create a superb looking CD DVD rounded off with printed box cover, printed insert and printed label to make a brilliant memorable impression.
RonyaSoft CD Label Designer is the perfect software extra to operate with your Epson Stylus Photo PX810FW printer so download it instantly and get those stylistic juices flowing!
CD DVD labeler software runs on Microsoft Pc OS, such as Windows XP, Windows Vista, Windows 8 and as well as works with an array of00 disc label printers, eg: Canon iP4000R, Canon MG5210, Canon MG6270, Canon MG7700 Series, Canon MP800, Canon TS8053, Canon TS9070, Epson Expression XP-960, Epson Stylus Photo 2100, Epson Stylus Photo R200, Epson SureColor SC-P600, HP Photosmart C5393, HP Photosmart D7560 and as well as others.
CD DVD label creator software orthoses an array of00 disc label suppliers , eg: Ace 30700 series, APLI 2928, Avery 8960, CD Stomper CD DVD, Datasafe CD DVD, Esselte Dataline 12426 CD DVD Labels, JP 2-up CD DVD, LabelGear Bulk 81312, Lorenz Bell LB6654, Online Labels O5025, Printer Creations, ScanMos 960031, Zweckform 6045 and as well as others.