US Blu-ray Cover
US Blu-ray Cover template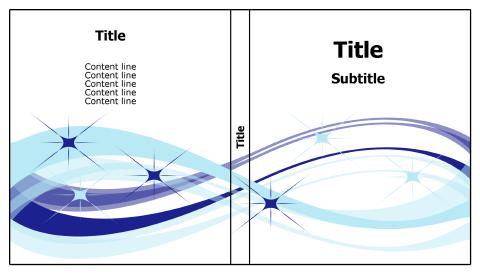 How to Make a Blu-ray Cover (US)
Blu-ray cover maker is a simple and cheap way to produce covers, labels, inserts for disk selection you have at home or in the office. With brand application from RonyaSoft you will create custom Blu-ray covers, great DVD case and amazing CD labels in a few clicks. Unlike other graphics editing software, available on the market, Blu-ray cover maker allows you only to produce and customize DVD cases, superb CD labels, unique Origami sleeves. The software offers you only those functions and features which will be of great use for you. You will not pay for a load of functions you will never use.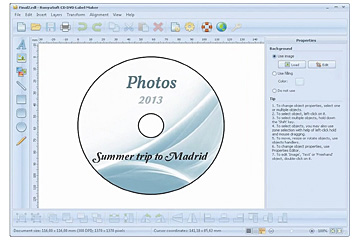 How to create custom Blu-ray covers?
There are few available ways you can get amazing free Blu-ray cover template designs.
Find and download Blu-ray cover template from the web. This method is least effective as you will waste hours until you find a trustworthy website offering really free galleries of custom Blu-ray covers and which will not infect your PC with a virus. When using Blu-ray cover maker from RonyaSoft you will create custom Blu-ray covers in the fastest and safest manner.
Another way to produce great Blu-ray cover template for your disk selection is using non-specific graphics editors. But these are commonly overloaded with various features and options for professional usage. Most of advanced editing features will not be of use in creation of simple Blu-ray covers. Moreover, these products are very exacting to power of your PC as well as to system requirements. When you choose RonyaSoft for producing Blu-ray cover template designs, you can be sure that you will get the simplest tool to use which does not require specific knowledge and skills and will run smoothly on the simplest computer configuration.
The best way to create Blu-ray covers is to get RonyaSoft tool. It offers a necessary tool kit to create, customize and print Blu-ray covers in few clicks!
Get the software and install the Blu-ray covers editing application following the setting guide.
Start the application and choose a Blu-ray cover template and customize a layout as you need. The software allows you to change colors, fonts, font size, add images, change orientation and location of every design element. When a Blu-ray cover template is ready you can print the project and save it. Saving the projects is recommendable if you have several disks of the same type. Using the same Blu-ray cover template will allow you to uniform design of all disks of the same type. In this way you will be able to systematize your collection of movies.
Who needs RonyaSoft application for Blu-ray cover template designs
This application will be of great use for:
Enthusiasts and for pro editors to create great uniform CD paper case designs, original CD labels, DVD case insert designs as well as sleeves and envelopes.
Students - Blu-ray cover creator is the best way to systematize and customize the biggest selection of disks.
Office workers - Blu-ray covers application is the best solution for those who day after day faces a challenge of creating high quality video content (presentations, video tutorials, webinars, presentations and reports, etc.) and burn it to Blu-ray disks.
Pro video editors who daily create tons of high quality video content and need to simple label and organize new Blu ray disks
Any discs can be made to look extra-appealing by adding attractive labels. Blu-ray labeling software supports a wide range of CD/DVD label printers, eg: Canon iP4600, Canon iP4870, Canon MG5370, Canon MG8240, Epson Artisan 700, Epson Artisan 800, Epson Stylus Photo PX660, Epson Stylus Photo R210, Epson Stylus Photo RX560, Epson Tray Type 1, HP Photosmart C5393, HP Photosmart D5368, Yurex MantraJet 1100 and similar.
CD DVD label print software supports a wide range of CD/DVD labels, eg: Agipa 119884, APLI 10213, Avery Maxell M87361, CD Stomper 2-up Slim Sheet CD DVD, DECAdry DLW-1900, DeskTop Labels 6602L Labels, Label+ 3-up, Meritline US CD DVD 2-up with Spines, MicroApplication 5015 A4, Polyline MCD625W, Tower, WriteAway CD DVD, Zweckform L7678 and similar.