HP Photosmart C5393 printer
Note: RonyaSoft does not sell HP® printers! The HP® brand, its product names and trademarks are owned by appropriate corporation. RonyaSoft offers CD DVD Label Maker software, that supports a lot of label printers, including some of the HP printers.
HP Photosmart C5393 printer CD DVD tray layout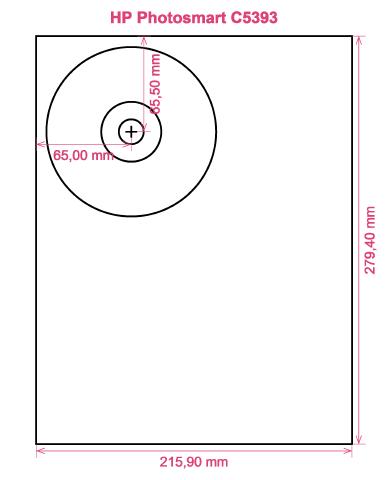 How to print labels on HP Photosmart C5393 printer
It is not until you have tried the RonyaSoft DVD Label Designer that you should realize how incredibly simple it is to get great prints - never again will you worry about not being able to make the most of modern technology! Within seconds of installing our DVD labeller software you will be printing Blu-Ray CD DVD labels and covers on the HP Photosmart C5393 printer.
Please don't switch off there, as you may miss the bigger reason behind our Blu-ray/CD/DVD label making program. RonyaSoft haven't gone to such efforts purely so you can print off a list of tracks on a CD or a film title on a label. No! This CD label printer program will give you so many choices for CD and DVD label design to allow you to create professional looking labels and covers. Plus, the CD label creation software can also be used to print CD and DVD covers and inserts utilising predesigned CD and DVD templates.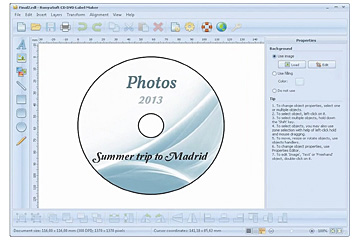 Concerning easy to use, well 'user-friendly' became even more friendly. Just use the text to understand how simple, yet sharp and professional results will be when you begin to create CD, DVD and Blu-ray covers, CD/DVD/Blu-ray labels and Blu-Ray CD inserts:
Hit the 'Download' button and installation for the CD DVD labeling software is automatic.
Opt for one of the designed CD DVD label and cover templates.
Add any of your own design ideas to print the CD or DVD label even more personal.
Start printing your unique DVD or CD label after clicking the 'Print' button, after selecting your HP Photosmart C5393 as the proper printer being used. Always download the latest free driver updates.
Enjoy!
The RonyaSoft label making software instantly gives you and your HP Photosmart C5393 printer so much you could need for personalizing so many great CD or DVD presents.
Anyone will tell you that a present with a personal touch, something sweet, will normally be appreciated far more than something bought, so you will have more than paid for your DVD labels create program, when you give someone a present.
What about these for possibilities:
Life is all about memories, and several of the best ones we have are of family days spent together. Everyone has a camera and everyone has their own set of pictures, but what fun to make a collage of the 'best of' photos from everyone and then run off a few copies on to a CD, create your own special labels and covers using the RonySoft label printer for CD's and DVD's and your HP Photosmart C5393 printer and give them as a unique gift to each member of the family who was in attendance.
Use jazzy images and snaps to to create CD & DVD covers and create CD/DVD/Blu-ray labels to easily identify your CD's and DVD's.
Use a snap of your canine or cat on the cover and CD and DVD label so you can easily identify which CD your pet's photos are all stored.
It's safer to store all your pics on your computer or a memory stick, but create a fantastic label to put on a CD or create a CD box cover and insert and establish a physical library of all your memories.
Make an unique video for job applications and create an attractive box with a smart CD & DVD label to add the finishing touches.
RonyaSoft DVD Label Designer is the perfect software extra to use with your HP Photosmart C5393 printer so download it today and get those imaginative creative juices flowing!
CD labelling program supports Windows xp OS, contains Windows XP, Windows Vista, Windows 8 and in addition is compatible with an array of CD DVD surface printers, including: Canon iP4750, Canon iP6700, Canon MG6130, Canon MG6370, Canon MP800R, Canon TS8080, Epson Artisan 710, Epson EP-704A, Epson Stylus Photo PX650, Epson Stylus Photo R800, Epson Stylus Photo TX720WD, HP Photosmart C5293, HP Photosmart D5445 and in addition others.
CD label making program encourages an array of CD DVD label papers , including: Anker Full Face, Avery 7225 CD DVD Label, Avery C6074, Boma LD002-HIG, Compulabel 312737 3-up, DeskTop Labels 3302CD-GLD CD DVD Labels, Herma 5084 CD DVD Label, LabelWhiz LW61200, Neato Full Coverage 2-up (A4), Plain Paper 2-up Full Face, PrintIT 2CDZ CD DVD Label, Worldlabel WL-OL5075, Zweckform J8776 Full Face and in addition others.