Standard DVD Cover
DVD Cover template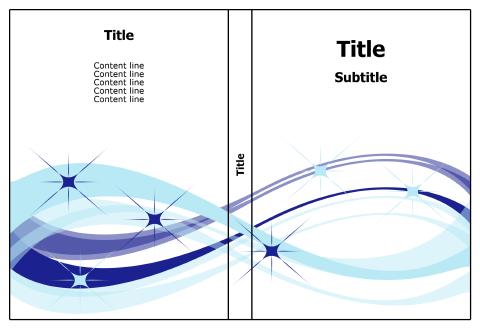 How to Make a DVD Cover
DVD cover software from RonyaSoft is a cot effective solution to label and to organize your disk collection. Forget about signing your disks with marker pen, stop using pieces of paper to use as free DVD covers. Forget the embarrassment of losing or damaging a DVD cover. With this application you will be able to create exclusive DVD cover, save printable DVD projects (DVD case insert template, simple CD and DVD covers, original CD labels, amazing DVD sleeves, durable envelopes and even unique origami cases).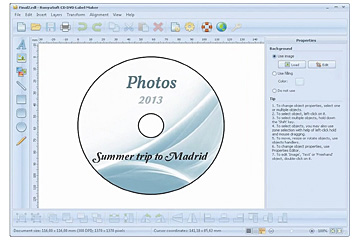 Why to make your own DVD cover?
Free DVD covers which even a kid can create on its own, using your own pictures and photos and modifying DVD cover template layouts is the cost effective and fast way.
It is the cheapest way to make protective cases for your disk set and to systematize your selection of disks, no matter there are CDs, DVDs, Blu Ray disks. The brand RonyaSoft DVD cover software offers templates for any type and size of disk you may get into your collection. Getting a single application on your PC, you will get a powerful and effective tool to manage all your disks in the collection. It is cost effective and simple to use.
Forget about DVD cover download which is embarrassing and painstaking. Instead of wasting time on search of high quality free DVD covers, you will make your own DVD cover in few clicks.
It takes up to 3 minutes to produce simple customizable DVD cover template, to save it (for further usage for other disks and for uniformity of disk organization) and to immediately edit and print CD covers, DVD covers and other products which will be a real fun to customize and print with new RonyaSoft DVD cover application.
Moreover using the brand DVD cover download application has another evident benefit. Paper CD covers, CD and DVD sleeves, blu ray covers and cases are the best way to save space on your shelves or on your desktop. Paper DVD cases consume less space than plastic ones.
Make your own DVD cover with RonyaSoft!
Download the DVD cover application. It is not system-exacting. The software does not need much space on your hard disk and free space to operate as other visual editors. DVD cover download is free. This is a trial version which is not limited in any way. We want you to try the application and to make a well-considered decision. The full version is cost effective. You pay once and get unlimited access to all possible types of DVD cover templates, CD templates and blu-ray covers. The software features no in-app purchases.
Install the application. It takes up to two minutes and is immediately ready to start.
Launch the application and you will see a standard menu and editing panels. The drag and drop layout is easy to customize in a few simple clicks. Choose a background color or picture from a library or upload your own pictures or photos. Change the color, fonts and size of text legends on a disk. Change the position and orientation of legend on DVD cover template!
Now you are done! You download DVD cover software ensuring you millions of free DVD covers which are created and printed in few minutes!
Blu-Ray/CD label creation software supports a wide range of CD surface printers, including: Canon iP4300, Canon iP5300, Canon MG6170, Canon MP530, Canon Pro9500, Epson Artisan 800, Epson Stylus Photo PX730WD, Epson Stylus Photo R2880, Epson Stylus Photo TX700W, HP Photosmart C309 series, HP Photosmart C5383, HP Photosmart D5445, Yurex MantraJet 1150-XL and similar.
Disc labeling software supports a wide range of CD label suppliers, including: Americal 313900 3-up, Armor U11836, Boma BMS001-CLR, Canson 987-283, Custom Paper, DeskTop Labels 3302 Labels, HP CDX-8040E, Label+ Offset 118, Plain Paper, Printer Creations, ProLabel SGW4525, Worldlabel WL-OL5025, Zweckform L7860 and similar.