Epson Stylus Photo TX700W printer
Note: RonyaSoft does not sell Epson® printers! The Epson® brand, its product names and trademarks are owned by appropriate corporation. RonyaSoft offers CD DVD Label Maker software, that supports a lot of label printers, including some of the Epson printers.
Epson Stylus Photo TX700W printer CD DVD tray layout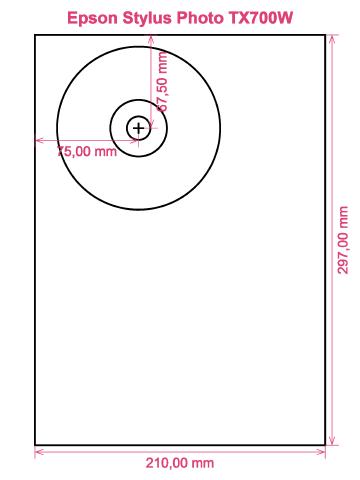 How to print labels on Epson Stylus Photo TX700W printer
It is not until you have tried the RonyaSoft Blu-ray CD DVD Label Creator that you should discover how incredibly simple it is to operate brilliant results finishes - no longer need you worry about not being able to make the most of modern technology! Within moments of installing our Blu-ray CD DVD labeler software you will be printing CD or DVD labels and covers on the Epson Stylus Photo TX700W printer.
Whatever you do don't switch off there, as you may not see the best reason behind your new CD labels creation software. RonyaSoft haven't gone to such measures simply so you can print off a list of tracks on a CD or a film title on a label. No! This CD & DVD label maker software will give you so many choices for CD and DVD label making to assist you to make professional looking labels and covers. More than that, the CD & DVD label creation software can also assist you to make CD and DVD cases and inserts utilising the brilliant CD and DVD templates.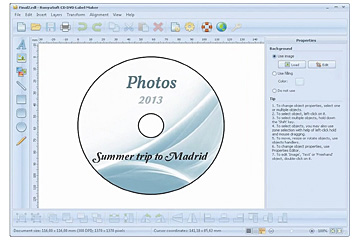 And as for straightforward to use, well 'user-friendly' became even more friendly. Just read the instructions to realize how simple, yet clean and professional results will be when you commence to make CD & DVD covers, Blu-ray labels and Blu-Ray inserts:
To automatically get your CD & DVD labels creation software program, click on the 'Download' button.
Try out one of the predesigned CD & DVD label and covers templates.
Change the design of the label according to your liking.
Click on the 'Print' button to begin your unique CD and DVD printed label after you have entered Epson Stylus Photo TX700W in to the print settings dialog. Don't forget to check that the latest printer driver is downloaded.
Be proud of yourself for what you have produced!
Everything you need to turn your PC and Epson Stylus Photo TX700W printer in to a little personal gift factory is a little imagination.
Have you ever noticed how a personally made gift really matters to someone you adore? Why spend money on pricey, presents that anyone can buy, when with the RonyaSoft Blu-ray CD DVD label and cover making software, you can save a fortune on gifts and appear ten times more thoughtful?
Try doing some of these:
You are at your brother or sister's graduation. It is an incredibly special moment in their life and one they will always look back on when they become older. What better way to aid them reminisce about their special day than for you to take hundreds of pictures and video clips of the day, from start to finish, insert them all on a CD or DVD and offer it to them as a unique way of demonstrating how proud you are of them. It will make the day for them and it will have cost you next to nothing, save for two bits of paper, a blank CD or DVD and a dash of ink from your Epson Stylus Photo TX700W printer.
Chose your favourite photos and pictures to print Blu-ray, CD or DVD covers and print Blu-ray labels.
Do you like being clever? Why not make new images for the CD and DVD covers for your collection?
It's easy to store all your photos on your computer or a memory stick, but print a fantastic label to put on a CD or create a CD case cover and insert and create a physical library of all your memories.
Want to stand out from the crowd when desperately attempting to impress even before you have been offered a job interview? Produce a fantastic looking DVD rounded off with printed case cover, printed insert and printed label to make a brilliant memorable impression.
RonyaSoft Blu-ray CD DVD Label Creator is the perfect software add-on to use with your Epson Stylus Photo TX700W printer so download it instantly and get those stylistic juices flowing!
DVD label creation software works on Microsoft Ms windoes Operational System, in particular Windows XP, Windows 2003, Windows7 because supports a number of00 CD/DVD/Blu-ray surface printers, eg: Canon iP4870, Canon MG5270, Canon MG5470, Canon MG8100 Series, Canon MG8270, Canon TS8054, Epson Artisan 700, Epson PM-4000PX, Epson PM-900C, Epson Stylus Photo R200, Epson SureColor SC-P600, HP Photosmart C5273, HP Photosmart Premium because similar.
DVD labels printing software facilitates a number of00 CD/DVD/Blu-ray label suppliers , eg: Americal 313910, APLI 10292, Avery L6045, Boma LS101HI, CoolBeLa LD002-CLR, Esyink Full Face, Hisago LP844S, Label+ Inline, Micro Application CD DVD, Plain Paper 2-up, Sanwa LB-CDR007, Stick-It CD DVD, Zweckform C6074 because similar.