Epson PM-4000PX printer
Note: RonyaSoft does not sell Epson® printers! The Epson® brand, its product names and trademarks are owned by appropriate corporation. RonyaSoft offers CD DVD Label Maker software, that supports a lot of label printers, including some of the Epson printers.
Epson PM-4000PX printer CD DVD tray layout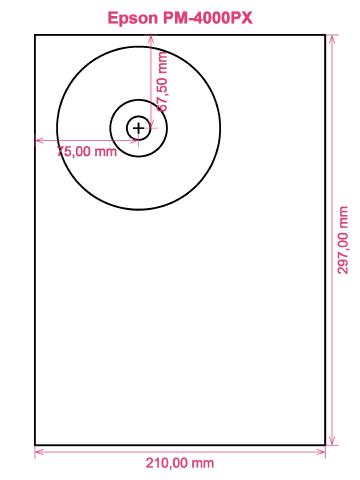 How to print labels on Epson PM-4000PX printer
When you have actually used the RonyaSoft CD Cover Creator you can understand how effective and easy it is - 'user friendly' takes on a totally new understanding! Within a few moments of downloading the CD labeler software from the link below, you will be printing off great CD or DVD labels using your Epson PM-4000PX printer.
Yet that's not all that's available with this fantastic Blu-ray/CD/DVD labels printing software. RonyaSoft may have made this software as simple as possible to use, but the results would suggest differently when you see the quality of printed CD or DVD labels. This Blu-ray, CD or DVD labels designer software has ideas galore for creating professional and classy labels! Yet for creating Blu-ray, CD or DVD labels isn't all when you know you can make Blu-ray, CD or DVD inserts and covers too and notice RonyaSoft have a selection of templates you can use.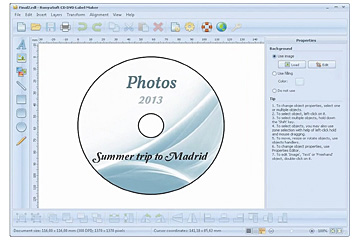 We also said this software was simple to work with. Well, we understand that if you worry you are not 'tech-savvy', after you have tried the RonyaSoft CD/DVD labels maker software, you will feel as clever as any professional graphic artist when you commence making loads of CD/DVD/Blu-Ray covers, CD labels and CD DVD inserts:
To automatically download the CD and DVD labels making program, click on the 'Download' button.
Opt for your favorite design from any of the predesigned CD and DVD label templates.
Start printing your unique CD label after clicking the 'Print' button, after identifying your Epson PM-4000PX as the proper printer being used. Try to use the latest free driver updates.
Smile!
All you need to turn your PC and Epson PM-4000PX printer in to a fabulous personal gift factory is a touch of imagination.
There is nothing nicer than getting a gift which indicates someone cares enough to make something unique for you. Save on costly shop-bought presents and with your first gift to someone special you will have covered the cost of your RonyaSoft CD DVD and Blu-ray labeling software.
Have a go making some of these:
Life is all about memories, and some of the memorable ones we have are of family days spent together. Everyone has a camera and everyone has their own set of pictures, but what excitement to make a assembly of the 'best of' photos from everyone and then print a few copies on to a CD, make your own special labels and covers using the RonySoft label printing software for CD's, DVD's and Blu-rays and your Epson PM-4000PX printer and send them as a unique gift to each member of the family who was there.
Use mood photos to design CD/DVD covers or design CD labels for your compilation CD's - thunder, sunshine, rain, a calm sea, a rainbow...
Want to have photos cataloged? Put a appropriate photo on the CD label or DVD box cover.
It's safer to store all your pics on your computer or a memory stick, but print a picturesque label to put on a CD or create a CD cover and insert and make a physical library of all your memories.
Make an one-off video for job applications and print an appealing box with a smart CD & DVD label to add the final touches.
How many blank CD's have you created with something on them, yet you can't remember what? These days are now long gone when you use the RonyaSoft CD labeling software to rapidly and easily run off a few labels on your Epson PM-4000PX printer.
Blu-Ray/CD/DVD label design software works on Microsoft Monitors OS, incorporating Windows XP, Windows 2003, Windows7 as works with numerous CD/DVD/Blu-ray surface printers, eg: Canon iP4720, Canon iP6700D, Canon MG6170, Canon MG7100 Series, Canon MX850, Canon MX922, Canon TS9090, Epson Expression XP-600, Epson Stylus Photo 960, Epson Stylus Photo R320, Epson Stylus Photo RX685, HP Photosmart C5280, HP Photosmart Premium as similar.
Blu-Ray/CD/DVD labels making software arch supports numerous CD/DVD/Blu-ray labels , eg: Americal EC313854, Avery 6692, Avery L6117, Boma LD001-HI, Compulabel 375052 Full Face, DeskTop Labels 6602L-CD CD DVD Labels, Herma 5083 CD DVD Label, LabelWhiz LW60400, Micro Application Full Face, Plain Paper 2-up, Printec AnyLabel V3771/V3773, Smart Label Model Q, Xerox 3R6322 as similar.