CD Back Insert
CD Case Insert template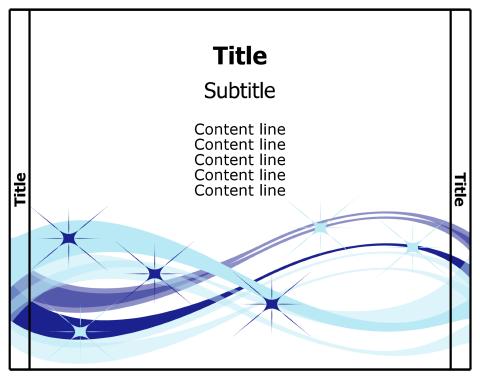 How to Make a CD Case Insert
CD insert is easy to make with RonyaSoft CD label maker, which is a useful tool for those having considerable collections of disks burnt on their own. With this application you will easily design, edit and print CD inserts in few simple clicks. The software offers customizable templates to make not only CD inserts, but to create simple envelopes, CD labels, Blu ray covers which you can print on your home printer.
Back CD inserts are of great importance as they contain important information on disk content. It is easy to manage your disk collection and to remember which content is on every disk when there is only a doze of disks. But what would you do when your collection will add over one hundred of music, movie, photos and software disks? In this case RonyaSoft CD cover creator for CD inserts making will come to help.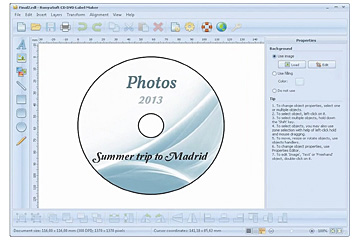 How to use RonyaSoft CD inserts application to manage your disk collection?
You can get the application to edit and print CD inserts right from this page. Download the application and launch the installation.
The CD label maker features low system requirements so you can be sure it will run seamlessly even on the oldest PC and will not slow down your system.
On starting the software you will see a simple and intuitively clear user interface which will offer you various types of disks. It is all-in-one application enabling you to create CD insert or DVD labels, custom Blu ray covers and fascinating origami envelopes.
When choosing a certain CD insert template (CD inserts, DVD sleeves or origami CD covers) you will get into a simple graphic editor with an already preset layout which you can edit.
You can choose either preset layout or make a completely new layout changing the number of blocks, the background (you can choose a color or image background - upload your photos or favorite images and personalize your CD inserts), fonts, their size and color. Moreover you will be able to change positions of text and image blocks.
With RonyaSoft CD label app for simple creation of CD insert you will design back CD inserts as you need. Add as many text blocks as you need to provide disk essentials on the back CD insert without any limits. When the CD insert is ready you can save CD insert to use it further on to uniform the disks of the same type in your collection.
The software for CD insert creation is compatible with popular models of printers.
Why to use RonyaSoft application for creation of CD inserts?
You will need only one application from RonyaSoft to edit and print CD inserts at home. You will find templates for DVD labels, Blu ray covers, custom origami cases, envelopes and sleeves for any disk type. The software offers an extensive collection of preset layouts and CD insert templates.
RonyaSoft DVD Case Cover Maker allows to design not only disc case inserts, but labels and covers from a ready-to-use samples or from scratch.
DVD labeller program supports a wide range of disc label printers, including: Canon iP4700, Canon MG5250, Canon MG8140, Canon MP800, Epson Artisan 710, Epson PM-930C, Epson Stylus Photo PX820FWD, Epson Stylus Photo R1900, Epson Stylus Photo R350, HP Photosmart C5270, HP Photosmart C5540, HP Photosmart D5368, Yurex MantraJet 1100 and others.
DVD labels creation program supports a wide range of disc label suppliers, including: Americal EC313854, APLI 10400, Avery J8761, Boma LD002-HIG, DECAdry OLW-4796, DiscWasher Interact, Label Me L-LMCD, Lorenz Bell, Plain Paper, Printec AnyLabel V3771 V3773, SureThing US 2-up, Zweckform 6082, Zweckform L7676 and others.