Paper Sleeve
Free CD Sleeve template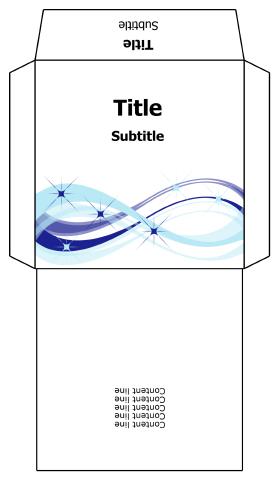 How to Print a CD Sleeve
CD DVD Label Maker is a simple yet effective tool to create DVD cover or paper CD sleeves, envelopes, disk labels and even Origami paper cases for a unique disk collection. This free software provides access to a variety of predesigned cd sleeve samples to choose from as well as allows to create your own CD cover, envelope or Origami CD cover design.
Why to use CD DVD Label Maker?
Paper CD sleeves are an optimum protection for your disk collection as they take less space than plastic cases in disk storage.
Paper CD case better organizes CDs and DVDs burnt on your own.
CD sleeve is the cheapest way to organize, protect and store a disk collection.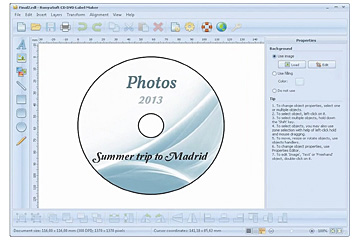 How to create a CD cover?
With CD DVD Label Maker you will make paper CD sleeves in several easy steps. This software allows creating custom designs adding pictures, symbols, text and marks to envelopes and cases. The process of creating a CD sleeve is really easy as ABC and takes the next simple steps:
Download CD DVD Label Maker and install the CD sleeves software on your PC - system requirements are minimal. The software does not slow down your PC performance. Besides, download is free! A great collection of templates is included.
Run the software and choose a design of a paper CD case from CD sleeve template collection or design your own using simple editing features (there are blank CD templates for simpler creation) - main menu is intuitively clear and is similar to menus of common graphic editors.
Edit a chosen CD sleeve template and print CD covers - a pop-up menu presents top editing options you will need to custom your paper CD case or a CD sleeve. Less clicks, more effects!
Scissor out carefully the CD sleeve and fold it. You are done!
But this CD DVD Label Maker is not an app for fun. It features great tools for creating professionally looking CD and DVD covers and envelopes. Toolbars will optimize your creative work: make it simpler, faster and more effective.
General toolbar gives access to the most common commands.
Objects toolbar provides a set of instruments for object inserting (text blocks, images, lines, cliparts, lines, rectangles and others).
Layers toolbar gives you instruments for creating and editing different layers of CD sleeve template. This toolbar allows to group, order, transform and align objects of the CD sleeve project.
Making paper CD case or CD sleeve on your own is really great as you save costs and get perfect covers, envelopes and CD labels for your disk selection. It is the easiest way to create a custom CD sleeve when you need it without spending a penny. This CD sleeve creator has got only positive user reviews for its fast, smooth and simple operation. Save paper CD case templates, edit them with several clicks and print new ones for new disks in your collection.
Who needs CD DVD Label Maker?
This paper CD sleeve creator will be of great use for:
students using CD and DVD disks for their educational projects, software, books, etc.
families who shoot many home movies and take lots of pictures they want to keep
freelancers having hundreds of installation disks with specific software
office workers keeping business projects in a traditional way of CDs and DVDs
Try it now! Free download DVD cover design software and create your own CD sleeves!
RonyaSoft Paper Sleeve Maker allows to create and print not only CD paper sleeves, but also disc labels, covers, case inserts and Origami paper cases from a predesigned samples or from blank.
Disc label make program supports a wide range of disc surface printers, eg: Canon iP4000R, Canon iP4950, Canon MG6220, Canon MP500, Canon MX850, Epson PM890C, Epson Stylus Photo PX730WD, Epson Stylus Photo R200, Epson Stylus Photo RX585, Epson Stylus Photo TX800FW, HP Photosmart C5390, HP Photosmart D5360, Yurex MantraJet 1150-XL and others.
Disc label designer software supports a wide range of disc label papers, eg: Ace 60400 series, APLI 2001, Avery Maxell MJ-CD17S-5, Boma LS001HI, DECAdry DLW-1824 (old format), Hisago CJ2843S, Kyso 5511CPM , Label+ Offset 118, Neato 2-up, ProLabel CD458, UBL SP0028 , Veriad VH585 587, Zweckform L7678 and others.