Canon MG6220 printer
Note: RonyaSoft does not sell Canon® printers! The Canon® brand, its product names and trademarks are owned by appropriate corporation. RonyaSoft offers CD DVD Label Maker software, that supports a lot of label printers, including some of the Canon printers.
Canon MG6220 printer CD DVD tray layout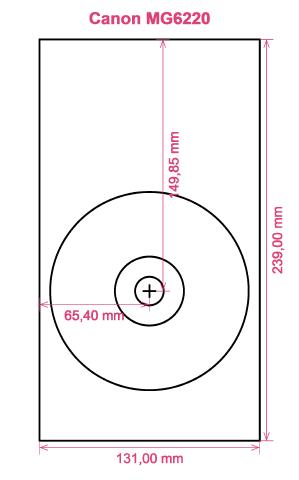 How to print labels on Canon MG6220 printer
Once you have only used the RonyaSoft CD & DVD Label Creator you can understand how simple and straightforward it is - 'user friendly' takes on a completely new understanding! Within seconds of swiftly downloading the CD & DVD labeler software program by clicking on the link, you will be printing off great CD and DVD labels and covers with your Canon MG6220 printer.
Yet that's not all that's useful with this exceptional CD DVD labels making program. RonyaSoft may have made it all as obvious as possible to use, but the outcome would suggest differently when you see the impressiveness of printed CD and DVD labels. This Blu-ray, CD or DVD labels program has options galore for creating professional and classy labels! Yet for creating Blu-ray, CD or DVD labels and covers isn't all when you know you can make Blu-ray, CD or DVD inserts and covers too and realize RonyaSoft have a selection of templates you can use.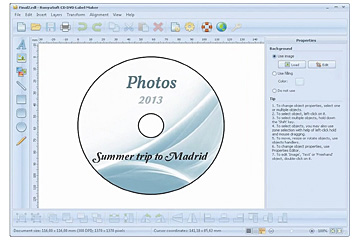 Regarding easy to use, well 'user-friendly' became even more friendly. Just read the text to discover how easy, yet sharp and professional results will be when you start to design CD and DVD covers, CD labels and CD/DVD inserts:
Download and install CD & DVD Label Creator program for free to try.
Pick out your favorite design from any of the great CD label templates.
Add any of your own design ideas to make the CD and DVD labels even more personal.
Click on the 'Print' button to commence your unique CD printed labels after you have entered Canon MG6220 in to the print settings dialog. Do not forget to check that the latest printer driver is installed.
Smile!
Enhance the potential of your computer and Canon MG6220 printer where you can now print a fantastic array of CD & DVD labels, inserts and covers, to create lovely gifts.
Have you ever noticed how a personally made gift really matters to someone you love? Why spend money on costly presents that anyone can buy, when with the RonyaSoft CD & DVD label make program, you can save a fortune on gifts and appear ten times more thoughtful?
What about creating some of these:
Life is all about memories, and some of the best ones we have are of family days spent together. Everyone has a camera and everyone has their own set of pictures, but what fun to make a collage of the 'best of' photos from everyone and then print a few copies on to a compact disc, make your own special labels and covers using the RonySoft label printing program for CD's, DVD's and Blu-rays and your Canon MG6220 printer and give them as a surprise gift to each member of the family who was in attendance.
Use jazzy images and snaps to to design CD and DVD covers and design CD labels to easily identify your CD's and DVD's.
Need to have photos cataloged? Put a relevant photo on the CD label or DVD case cover.
Memories shared can last longer - download your photos of a night out on to a CD and create a label, cover and insert, then give a copy to all who were there!
Make a personal video for work applications and create a professional looking box with a smart CD and DVD label to add the finishing touches.
How many blank CD's have you lying around with pictures on them, but you can't remember what? These days are now over when you utilise the RonyaSoft CD & DVD label print software program to quickly and effectively run off a few labels on your Canon MG6220 printer.
CD DVD label maker program is compartible with Around Platform, introducing Windows XP, Windows 2003, Windows7 since supports a wide array of disc label printers, eg: Canon iP4850, Canon iP7260, Canon MG6210, Canon MG8110, Canon MG8230, Canon TS8050, Epson Artisan 730, Epson Expression XP-760, Epson Stylus Photo 2100, Epson Stylus Photo R1900, Epson Stylus Photo TX720WD, HP Photosmart C5380, HP Photosmart C5550 since others.
CD DVD labels printing program orthotics a wide array of disc label suppliers , eg: Ace 30800 series Full Face CD DVD (11x17), Avery 8694, Avery L6015, Boma LD002-CL, CoolBeLa BMS002HI, Global ProBiz (5x9 sheet), JP 2-up CD DVD, Kingdom 2-up, Mirage CD DVD, Online Labels O9325, Sanwa LB-CDR003, Telliton CD DVD, Zweckform J8777 Full Face since others.