Memorex CD DVD MAX CD DVD (A4) CD DVD labels
Memorex CD DVD MAX CD DVD (A4) label template layout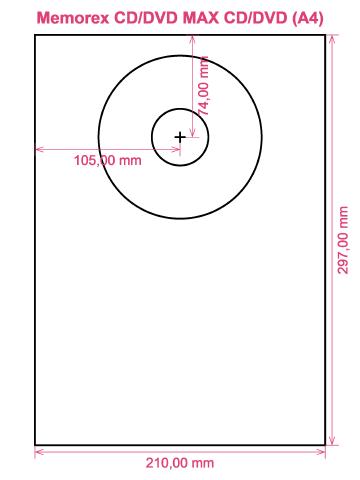 How to print on Memorex CD DVD MAX CD DVD (A4) CD DVD labels
Memorex CD labels are popular among users due to their quality, amazing adhesiveness and simplicity of application. We have a great solution for you! RonyaSoft CD DVD label maker is a perfect alternative of brand application to edit and print Memorex CD labels. Why?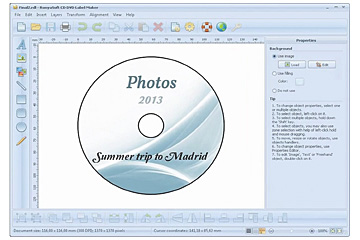 Why RonyaSoft application is better than Memorex CD label maker?
RonyaSoft CD DVD label maker is an all in one solution to manage your disk collection and to create Memorex CD labels either using Memorex DVD label template (or CD template) or make a new label from scratch.
The application offers you a vast collection of free pre-installed label templates you can choose from and customize any template as you need.
RonyaSoft application supports the most popular stock labels and is compatible with the most popular printers. So you get a single too to create any CD DVD label.
Apart from disk labels, the software from RonyaSoft offers you complete tool kit for creation and printing of covers, cases, sleeves, envelopes for DVD, CD and blu-ray disks. You do not need to get various applications on your PC and to switch among them to complete a simple mission of creating Memorex CD labels and then Avery CD labels.
RonyaSoft label software features excellent printing options. The software ensures extra quality and accuracy of printing unlike many other online printing applications and tools from other brands presenting the same problems: it is almost impossible to print a label accurately, no matter how hard you try, you will waste a bulk of labels anyway.
However the greatest advantage of RonyaSoft application is its price. First, you can download an absolutely free demo version right from this page. The demo version is limited only in time so you will get access to all the features. Why to pay more for other Memorex DVD label makers, if you can get a perfect tool compatible with the most popular stock labels and allowing to create your own label designs?
How to use RonyaSoft for creating and printing Memorex CD labels?
To make Memorex CD labels with RonyaSoft DVD CD label maker you need to download and install the application to your PC. Click green 'Download' button to get the application right from this page.
Start the application and choose the type of product you need (for example, one of the Memorex CD labels).
The Memorex DVD label template will be opened in graphic editor to customize it up to your needs: change background, edit text and add images if necessary. Save the template and it will be available among Memorex CD labels to use the next time you will need another label of the kind.
To print Memorex CD labels, click a printer icon on the tool panel or choose Printing option in the File menu. A window with printer setting will open. Specify the number of copies and choose the source of paper (Memorex...) and click 'print' button!
Congratulations! You are done!
CD label print software supports a wide range of CD DVD surface printers, eg: Canon iP4810, Canon iP4940, Canon MG6120, Canon MP640, Epson Artisan 50, Epson PM-950C, Epson Stylus Photo 950, Epson Stylus Photo R265, Epson Stylus Photo RX685, Epson Tray Type 1, HP Photosmart C5288, HP Photosmart D7560, Yurex MantraJet 1050 and others.
CD label creation software supports a wide range of CD DVD labels, eg: Americal 313936N, APLI 10398, Avery J8676, CD Stomper 2-up CD DVD with Center Labels, CoolBeLa BMS001-CLR CD DVD, Herma, Kyso 5511 CD DVD, LabelWhiz LW60460, Plain Paper 2-up, ProLabel FFJGCD, Telliton, Zweckform L6044, Zweckform L6117 and others.