Epson Stylus Photo R310 printer
Epson Stylus Photo R310 printer CD DVD tray layout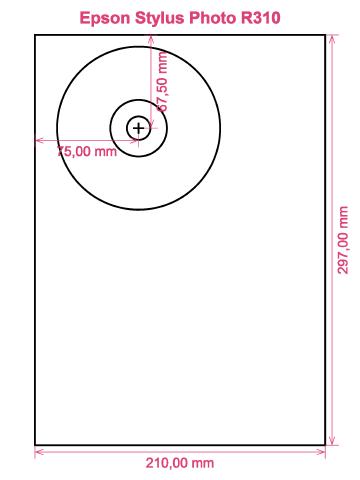 How to print labels on Epson Stylus Photo R310 printer
After you have tried the RonyaSoft CD Label Maker, easy will be the word that springs to mind - you can definitely be blown away at how uncomplicated it is to download the label design software by clicking on the link on this page and within just a couple of moments you will be printing professional-looking CD or DVD labels on your Epson Stylus Photo R310 printer.
Don't stop there though as there's much more to this CD, DVD and Blu-ray labeling software than instantly meets the eye. Simple and easy to use doesn't create simple prints, but more professional looking CD, DVD and Blu-ray labels than you would expect. This disk label creator software gives you masses of choices and has plenty of CD, DVD and Blu-ray label and cover templates already installed, not just for creating CD DVD labels, but also CD, DVD & Blu-ray case covers and case inserts to produce the professional look.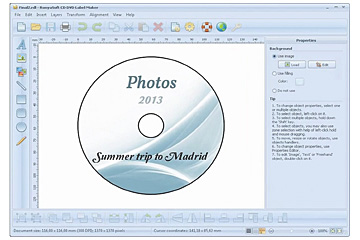 How simple do you want your label creation to be? A few clicks of a mouse is enough for you to then be printing your own CD labels, CD/DVD case covers and Blu-Ray DVD case inserts. You don't need to be a genius to 'click' with this simple to download label creation software, just use it and see for yourself!
To automatically get your CD DVD label creation software, click on the 'Download' button.
Click on your chosen option from a wide choice of preinstalled CD label and cover templates.
Edit the design of a label according to your liking.
Start printing your specially designed CD label after clicking the 'Print' button, after inputting your Epson Stylus Photo R310 as the correct printer being used. Try to download the latest free driver updates.
Smile!
Everything you need to turn your PC and Epson Stylus Photo R310 printer in to a little personal gift factory is a little imagination.
Have you ever noticed how a personally made gift really matters to someone you adore? Why spend money on costly presents that anyone can buy, when with the RonyaSoft CD label printing software, you can save a fortune on gifts and become ten times more thoughtful?
How about these wonderful options:
You're at a wedding and you take lots of un-staged photos or video clips of everyone looking happy and having a ball. Pick your best, burn them on to a disc and send it to the bride and groom as a thank you for the invitation to their marriage. They will love you for the sweet and personal touch. And what did it cost you to create one of the most kind presents they will have received during their wedding? - The cost of a blank disc, few pieces of paper and a splash of ink from your Epson Stylus Photo R310 printer. Great huh?
Use jazzy images and snaps to to create CD/DVD/Blu-Ray case covers or create CD labels to easily pick out your CD's and DVD's.
Have to have photos cataloged? Put a topical photo on the CD label or DVD case cover.
It's easy to store all your pics on your computer or a memory stick, but make a fantastic label to put on a CD or create a CD case cover and insert and make a physical library of all your memories.
Keen to stand out from the crowd when anxiously trying to impress even before you have been offered a job interview? Produce a superb looking CD finished off with printed case cover, printed insert and printed label to make a great impression.
How many blank CD's have you got with music on them, but you can't remember what? These days are now long gone as you use the RonyaSoft CD label create software to rapidly and easily run off a few labels on your Epson Stylus Photo R310 printer.
DVD label printing software runs on Windows Operational System, including Windows XP, Windows 2003, Windows7 and works with a wide range of disc label printers, including: Canon iP4000, Canon iP4970, Canon MG5310, Canon MP600R, Canon MP980, Epson Artisan 800, Epson Stylus Photo 1400, Epson Stylus Photo R260, Epson Stylus Photo RX560, HP Photosmart C309c, HP Photosmart C5500 series, HP Photosmart D5460, Yurex MantraJet 1150-XL and others.
DVD label design software supports a wide range of disc label suppliers, including: APLI 10043, Avery 8931, Avery L6043, CD Stomper Pro 2-up CD DVD Core, CoolBeLa LS101HI, DECAdry OLW-4901, Kyso 5511CPM CD DVD, Lorenz Bell LB6080, Online Labels O5025, Printec AnyLabel L3771 L3773, Unistat CD DVD 2-up, Zweckform J8776, Zweckform L6047 and others.