Canon MG7140 printer
Canon MG7140 printer CD DVD tray layout
How to print labels on Canon MG7140 printer
When you have used the RonyaSoft CD Cover Maker, simplicity will be the word that springs to mind - you will definitely be amazed at how quick it is to download the label making software by clicking on the link underneath and within just a couple of ticks you will be printing professional-looking Blu-Ray CD DVD labels and covers on your Canon MG7140 printer.
However don't switch off there, as you may not see the best picture for our CD DVD label making program. RonyaSoft haven't gone to such extremes just so you can print off a list of tracks on a CD or a film title on a label. No! This CD label maker program will provide you so many choices for CD and DVD label creation to allow you to make professional looking labels and covers. More than that, the CD label creation software can also assist you to create CD and DVD covers and case inserts with the help of predesigned CD and DVD templates.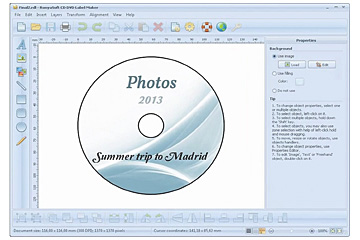 Regarding simple to use, well 'user-friendly' is now even more friendly. Just read the instructions to discover how simple, yet sharp and professional results will be when you commence to make CD/DVD box covers, DVD labels and CD box inserts:
Download and install Blu-ray/CD/DVD Label & Cover Maker program for free to try.
Choose your favorite design from any of the great CD and DVD label and covers templates.
Add any of your own design ideas to print the CD and DVD label even more personal.
Start printing your specially designed CD label after clicking the 'Print' button, after inputting your Canon MG7140 as the right printer being used. Try to download the latest free driver updates.
Have Fun!
Maximize the potential of your computer and Canon MG7140 printer where you can now print a fantastic array of Blu-ray/CD/DVD labels, box inserts and box covers, to create lovely presents.
Anyone will tell you that a surprise with a personal touch, something nice, will forever be appreciated far more than something purchased, so you will have more than paid for your CD labels make program, as soon as you give someone a present.
How about these wonderful ideas:
Life is all about memories, and some of the greatest ones we have are of family days spent together. Everyone has a camera and everyone has their own set of pictures, but what fun to make a assembly of the 'best of' photos from everyone and then create a few copies on to a CD, print your own special labels and box covers using the RonySoft label printing software for CD's, DVD's and Blu-rays and your Canon MG7140 printer and post them as a memorable gift to each member of the family who was there.
Use funky images and pics to to make CD/DVD box covers or make DVD labels to easily pick out your CD's and DVD's.
Choose a snap of your canine or cat on the cover and CD or DVD label so you can easily identify which CD your pet's photos are all kept on.
It's easy to store all your pics on your computer or a memory stick, but print a memorable label to put on a CD or create a CD box cover and insert and create a physical library of all your memories.
Keen to stand out from the masses when keenly wanting to impress even before you have been offered a job interview? Create a professional looking DVD complete with printed box cover, printed insert and printed label to make a brilliant memorable impression.
How many blank CD's have you got with something on them, yet you can't remember what? These days are now long gone if you utilise the RonyaSoft CD label make software program to swiftly and easily run off a few labels on your Canon MG7140 printer.
CD DVD labelling program is compartible with Windows System, including Windows XP, Windows Vista, Windows 7 and supports a wide range of CD/DVD/Blu-ray label printers, including: Brother MFC J835DW, Canon MG5220, Canon MG6340, Canon MP810, Custom Printer, Epson Artisan 837, Epson Stylus Photo PX650, Epson Stylus Photo R285, Epson Stylus Photo RX650, EZ CD Print Plus, HP Photosmart C5390, HP Photosmart Premium, Yurex MantraJet 1100 and similar.
CD DVD label making program supports a wide range of CD/DVD/Blu-ray labels, including: Anker CD DVD, Armor U11836, Avery L6044, Cassette House, CoolBeLa BMS003HIG CD DVD, Herma 5084 CD DVD Label, Intcomex Klip Xtreme, LabelWhiz LW61200, Plain Paper, PressIt, Quill, WHSmith, Zweckform L7776 and similar.