Epson PM-4000PX printer
Epson PM-4000PX printer CD DVD tray layout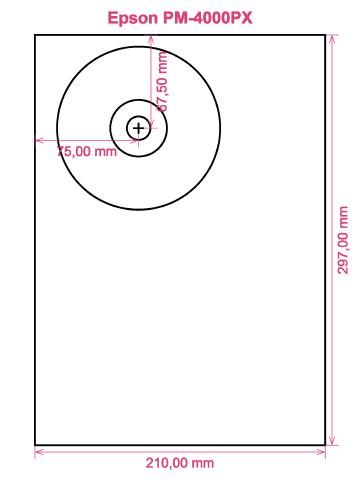 How to print labels on Epson PM-4000PX printer
After you have used the RonyaSoft DVD Label Creator, brilliant! will be the word that comes to mind - you can be guaranteed to be amazed at how simple it is to download the label printing software program by clicking on the link below and within just a couple of ticks you will be running off fantastic CD and DVD labels on your Epson PM-4000PX printer.
Whatever you do don't stop there, as you may not see the bigger point of this DVD label print software. RonyaSoft haven't gone to such measures simply so you can print off a list of tracks on a CD or a film title on a label. No! This CD DVD labels software will give you so many alternatives for Blu-ray, CD or DVD label printing to allow you to design professional looking labels. Plus, the CD DVD label making software can also be used to print Blu-ray, CD or DVD cases and case inserts utilising predesigned Blu-ray, CD or DVD templates.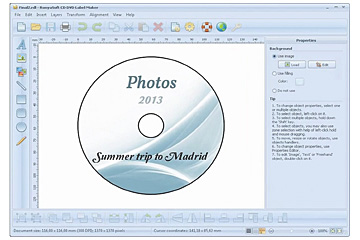 How easy do you want your labeling to be? A few clicks of a mouse is enough for you to then be running off your own CD DVD labels, CD and DVD case covers and Blu-Ray CD case inserts. You don't have to be a boffin to 'click' with this simple to download labels printing software, just have a go and see for yourself!
To automatically get your Blu-ray/CD/DVD label making program, click on the 'Download' button.
Opt for your favorite design from any of the preloaded CD label and covers templates.
Click on the 'Print' button to start running off your unique CD and DVD printed label after you have entered Epson PM-4000PX in to the print settings dialog. Don't forget to check that the latest printer driver is downloaded.
Be proud of yourself for what you have produced!
Maximize the potential of your computer and Epson PM-4000PX printer where you can now print a fantastic array of Blu-ray/CD/DVD labels, case inserts and case covers, to create lovely presents.
Have you ever noticed how a personally made gift really matters to someone you love? Why spend money on pricey, presents that anyone can buy, when with the RonyaSoft DVD label and cover make software, you can save a fortune on gifts and become ten times more thoughtful?
Try doing some of these:
You're at a wedding and you take plenty of un-staged photos or video clips of everyone looking relaxed and having a great time fun. Pick your best, burn them on to a disc and send it to the bride and groom as a thank you for the invitation to their special day. They will love you for the kind and personal touch. And what did it cost you to produce one of the most kind gifts they will be given during their wedding? - The cost of a blank disc, two pieces of paper and a drop of ink from your Epson PM-4000PX printer. Cool huh?
Use funky images and photos to to print Blu-ray, CD or DVD case covers or print CD DVD labels to easily pick out your CD's and DVD's.
Do you like being creative? Why not make new styles for the CD & DVD covers for your collection?
What a disaster if you have your laptop and memory stick destroyed - where are all your photos put? Make extra certain you don't lose all stored memories of those great days in your life - just print off some cool CD and DVD labels, burn your pics on to a disc and put everything securely where you can see it.
Are you searching an individual way to make you stand out when applying for employment. Do you have to seem superior from the rest of the applicants. Do you have to impress your future employers with a presentation of yourself on a DVD with a professionally printed DVD label and printed DVD case designed for each application?
How many blank CD's have you lying around with something on them, yet you can't remember what? These days are now long gone as you use the RonyaSoft DVD label print software program to rapidly and effectively run off a few labels with your Epson PM-4000PX printer.
CD label design software works on Microsoft Windows Platform, including Windows XP, Windows 2003, Windows7 and is compatible with a wide range of CD/DVD/Blu-ray label printers, including: Canon i9950, Canon iP6700D, Canon MG6170, Canon MG8240, DisqueMate M5000, Epson PM-980C, Epson Stylus Photo 1400, Epson Stylus Photo R280, Epson Stylus Photo RX560, HP Photosmart C309c, HP Photosmart C5288, HP Photosmart D5360, Trace Affex CD-Artist and others.
CD label making software supports a wide range of CD/DVD/Blu-ray label suppliers, including: Ace 60025 series, APLI 10166, Avery C6074, Boma LS001HIG, DECAdry OLW-4824 CD DVD (old format), Dummy CD Insert, Hovat, Micro Application, MicroApplication 5015 A4, Prism CD DVD Labels, Sanwa LB-CDR003 CD DVD, Zweckform 6117, Zweckform L6117 and others.