Canon MG5420 printer
Canon MG5420 printer CD DVD tray layout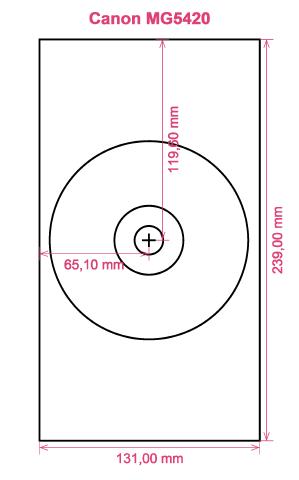 How to print labels on Canon MG5420 printer
It's after you have tried the RonyaSoft DVD Label Maker that you will see how incredibly simple it is to use great prints - gone are the days when you be afraid of being unable to make the most of modern technology! Within moments of installing your DVD labeller software you can be printing CD or DVD labels on your Canon MG5420 printer.
However that's not all that's useful with this exceptional CD DVD labels making software. RonyaSoft may have made this software as easy as possible to use, but the prints would suggest differently when you see the impressiveness of printed CD and DVD labels. This Blu-ray, CD or DVD label creator software has options galore for creating impressive labels! However for creating Blu-ray, CD or DVD labels and covers isn't all when you know you can make Blu-ray, CD or DVD box inserts and box covers too and discover RonyaSoft have a load of templates you can use.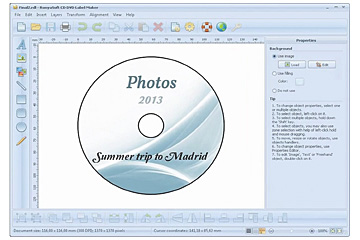 We also said this software was simple to employ. Well, we understand that if you sense you are not 'tech-savvy', after you have employed the RonyaSoft CD & DVD labels designer software, you will feel as clever as any professional graphic artist as you begin creation loads of CD/DVD/Blu-Ray box covers, CD DVD labels and Blu-Ray CD box inserts:
Download and install Blu-ray/CD/DVD Label & Cover Maker software for free to try.
Opt for your favorite design from any of the great Blu-ray/CD/DVD label and cover templates.
Add any of your own design ideas to print the CD or DVD labels really personal.
Print the created label by clicking the 'Print' button. Do not forget to indicate your Canon MG5420 printer during the setup process and to install the latest free version of the driver.
Smile!
The RonyaSoft label making software uniquely gives you and your Canon MG5420 printer all you could desire for personalizing so many great CD or DVD surprises.
Anyone will tell you that a gift with a personal touch, something sweet, will always be appreciated far more than something costly, so you will have more than paid for your DVD label and cover design software, as soon as you give someone a present.
How about these great suggestions:
You're at a wedding and you take plenty of un-staged photos or video clips of everyone looking cheerful and having a ball. Choose your favorites, burn them on to a disc and send it to the bride and groom as a thank you for the invitation to their wedding. They will love you for the kind and personal touch. And what did it cost you to create one of the most kind offerings they will have received during their wedding? - The price of a blank disc, a couple of pieces of paper and a splash of ink from your Canon MG5420 printer. Great huh?
Use emotive photos to make CD & DVD box covers and make CD DVD labels for your compilation CD's - thunder, sunshine, rain, a calm sea, a rainbow...
Use a pic of your pooch or cat on the cover and CD and DVD label so you can easily spot which CD your pet's photos are all kept on.
What happens if you have your laptop and memory stick stolen - where are all your photos stored? Make extra sure you don't lose all treasured memories of those great days in your life - just print off some cool CD DVD labels, burn your photos on to a disc and put everything securely where you can see it.
Are you looking for a new way to make you stand out when applying for work. Do you need to seem superior from the rest of the competition. Do you have to wow your potential employers with a presentation of yourself on a DVD with an excellent printed DVD label and printed DVD case made for each application?
How many blank CD's have you lying around with pictures on them, but you can't remember what? These days are now in the past if you utilise the RonyaSoft DVD label make software program to quickly and efficiently run off a few labels with your Canon MG5420 printer.
Blu-ray label maker software runs on Microsoft Windows OS, including Windows XP, Windows Vista, Windows 8 and is compatible with a wide range of CD/DVD/Blu-ray label printers, including: Canon iP4810, Canon MG5250, Canon MG6120, Canon MG8150, Epson Artisan 710, Epson PM-950C, Epson Stylus Photo PX810FW, Epson Stylus Photo R270, Epson Stylus Photo RX640, EZ CD Print 5700, HP Photosmart C5300 series, HP Photosmart D7500 series, Yurex MantraJet 1050 and others.
Blu-ray labels maker software supports a wide range of CD/DVD/Blu-ray label providers, including: Agipa 119884, Avery 6692, Avery L7760, Champion CD DVD, DECAdry OLW-4824, DeskTop Labels 3302CD-SLV CD DVD Labels, Kyso 5511CPM CD DVD, LabelWhiz LW61260, Neato 3-up US, Polyline MCD450W, Sanwa LB-CDR001 CD DVD, Zweckform 6047, Zweckform L7678 and others.