Prohibition Signs
How to design prohibition signs
Prohibition signs specify behavior and actions from people which are not permitted or restricted. A prohibition sign must feature specific design standards to be recognizable (a target person must understand on the go that this is a prohibition sign). At the same time prohibition signs must keep high readability and scannability. This means that the sign must be designed in such a way that a person can fast and easy read and understand the message. RonyaSoft Poster Designer will help you to create your own sign.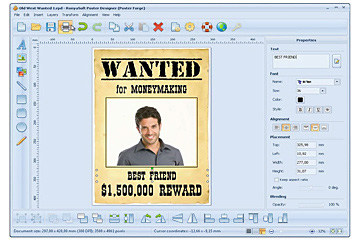 How to make your own prohibition sign?
Prohibition signs feature specific design. Graphical symbols in prohibition signs are vital for providing people with essential information no matter what language they speak. Graphic icons are better comprehended than wording. A human brain processes graphic symbols faster than the most adequate wording. Moreover images perform stronger emotional impact than words.
An effective prohibition sign must comply with the international standards (using standard forms, colors, icons) to provide to all people coherent and consistent information to overcome language barriers. There are official documents which determine the standards of colors, designs, content (graphic icons) and shapes of prohibition signs.
To avoid inconsistency in prohibition signs creation, you need to learn the international rules of prohibition sign standardization or use tools ensuring prohibition sign compliance with international standards.
RonyaSoft Poster Designer is a PC application providing you a full collection of sign templates to create your own sign. The gallery of templates contain informational signs, caution signs and various kinds of prohibition signs as no entry sign or no parking sign. Creating your own signs with RonyaSoft Poster Maker you can be sure that your prohibition signs will comply with international standards, will be readable and informative as well as noticeable by people on the go.
Using RonyaSoft Poster Designer for sign making
Download poster creator from our site. Get the application installed. RonyaSoft is available in free trial version which provides full access to the collection of templates and editing tools. RonyaSoft supports the full cycle of creating posters, making banners, certificates, signs and other printed graphics production: from choosing a necessary template to printing for example a no parking sign.
Launch the Poster Maker and find prohibition sign templates in the template collection. Choose no entry sign or no mobile phones sign, it will be opened in RonyaSoft banner creator.
Each prohibition sign is editable. You can resize the sign, change or delete the wording, add brand identity (logo or brand name of your company) or change the colors of the sign. Though any changes made to prohibition signs compromises readability and compliance with international standards, still you can customize any sign template up to your needs.
Print the edited sign by clicking the printer icon on the tool panel of the graphic editor. The software is compatible with most of the printer models and brands. No additional setting is required. You need to only specify the source and the number of copies.
RonyaSoft Poster Designer creates standard prohibition signs and provides all the necessary tools to create your own sign which is not specified in international code of rules.