Caution Signs
How to design caution signs
Caution sign is a type of warning informational sign indicating a possible hazard which can be not readily apparent to a person. Caution signs feature a standard form of an equilateral triangle. The signs commonly use only icons and symbols. If an explanatory wording is needed, a rectangle text block is added. The colors of attention signs are also standard: yellow, black and white. A text block is designed the same as the caution sign itself: black border and yellow background. How to make your own sign?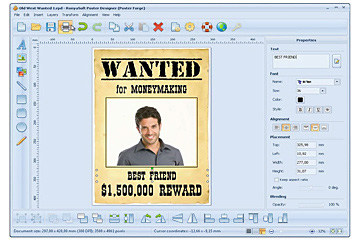 Three ways of making caution signs
There are three typical ways of producing caution signs:
Standard graphics editor - this can be a specific design tool or an application provided with your operating system. The key problem you can face when trying to make your own sign with any standard editor is that the galleries lack standard elements and icons required to create an attention sign complying with requirements.
Downloading caution signs from the web - this seems to be the easiest way of making your own sign, however you will waste time and efforts finding high quality, high resolution signs, which will be scalable and editable at the same time. Moreover some caution signs are protected with watermarks which are hard to remove without compromising the quality of the picture.
Use RonyaSoft Poster Designer - this software is completely optimized to make your own caution sign. The software comes with a collection of templates which are editable and customizable.
Why to use RonyaSoft Poster Maker to make caution signs?
RonyaSoft poster maker is a great PC application providing all necessary tools for full cycle production of posters, signs, certificates, collages, banners and other.
Simplicity
RonyaSoft Poster Designer features a simple and clear UX, the interface is intuitively clear and logic, the next user action is predictable and understandable. All you need is to download the software from this page and get it installed (it takes not more than 5 minutes). The software is compatible with most versions of Windows and does not require additional settings.
Collection of templates
The software comes with a collection of templates which are completely free. There is no in-app purchase. All the templates are scalable, editable and customizable. You can change the size and look of the elements as well as to add or remove elements from caution signs. The graphic editor comes with simple kit of editing tools. Drag and drop mode simplifies the process of editing.
Printing options
The poster maker software supports the full cycle of caution sign production: from idea concept (choosing a proper attention sign for your project) to printing a caution sign in high quality. RonyaSoft banner creator is compatible with most of the models of top printer brands. You can print an edited sign with a single click. If you require to print a caution sign in large format, then RonyaSoft offers you Pospter Printer application which ensures high precision printing of caution sings in formats larger than A4 supported by office and home printers.