How to make a certificate?
Certificate is a perfect gift to your friends and family, a great commemoration of a memorable event in your life which you can make your own certificate with minimal efforts applied. Wedding, birthday, graduation, career or sport achievement and other events are perfect occasions to present a certificate. Certificates are also applicable in business. If you are running a small family store, then you can make your own certificates. These will be a perfect addition to your customer loyalty program. Moreover RonyaSoft software for certificate design is the cheapest but the most effective way to award your customers and to make them come back to your store or cafe.
With brand software for certificate design you will be able to create professionally looking certificates as this one or even better:
The Birth Certificate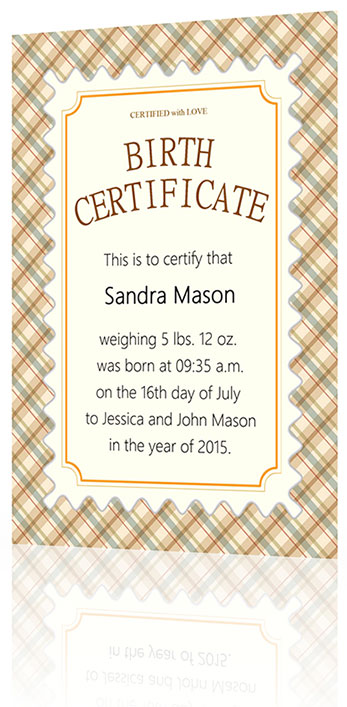 (Click to enlarge)
Rewards are essential in our lives. With this simple and easy to use software you will learn how to make a certificate. and print it at home. Certificates can be used for family events and celebrations (for example, wedding certificates or birthday certificates), for kids education and their rewarding, for businesses for rewarding of employees and customer engagement.
RonyaSoft offers an all-in-one product for certificate design. RonyaSoft application allows for professional creation of certificates without using complex design software, without specific knowledge and skills, without investing much time and efforts. The application is a professional tool for certificate design, poster design and other document design which needs certain graphics inserted. Brand poster making software offers a great collection of templates to use for certificate design. The software allows to download award certificate, birthday certificate, experience certificate, wedding certificate, school diplomas and many others. The templates are downloaded in JPG format and can be further on changed in RonyaSoft certificate maker or any other graphics editor.
From this review you will learn how to make a certificate for any family occasion or business event in your life. Moreover RonyaSoft ensures instant printing of birth certificate you have just created.
This review will explain you how to make your own certificate in few clicks using birthday certificate as an example.
1) Starting certificate design – key settings
To make your own certificate you will need to download certificate maker from RonyaSoft. You can do so by clicking green Download button right on this page. The software is compatible even with the oldest operating systems. Follow the instructions and install the software. The certificate maker will create an icon on your Desktop. The application will also be available from Start menu.
Start the software by clicking the icon on your Desktop. This will open the 'Startup Wizard' dialog box offering you available templates to choose from. This window offers you a selection of templates.
Choose a Template Dialog Box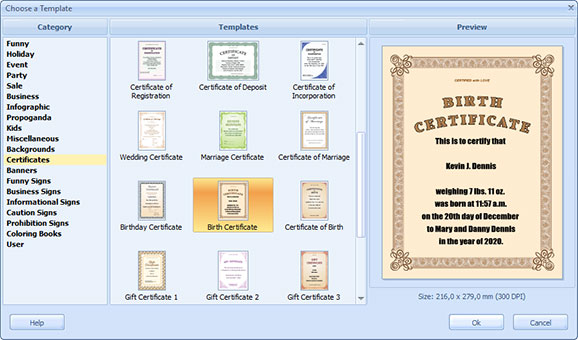 (Click to enlarge)
You can check all the categories of documents and certificates in the left category menu. Click certificates, and you will see all certificate design template available to use. The window will show you small certificate design icons. To create a birth certificate you will need to choose Birthday certificate template. By choosing a birthday certificate template you will see its full size example in the right part of the window. Clicking the OK button will take you to the graphics editor.
2) Designing a birthday certificate
Now you will edit your birthday certificate template adding personal data as text and images. Before you will start making a certificate, we recommend you to write down necessary data (as in our case on birth of a child). You will need to know the next data:
Full name;
Date and exact time of birth;
Weight, height;
Place of birth;
Full names of parents.
This will help you to estimate how much of text and how many text blocks you will need in your certificate. As it is not an official document, you can add any information on the event you want.
To start editing birth certificate template you will need to change the Background of a template. To do so you will need to address to 'Properties' menu and choose 'Color' option. Choose a desired color for a birthday certificate background. Clicking the Ok button will apply a chosen color to the background of the birth certificate.
You can also edit the frame of the certificate with such tools as override pen and override brush which are available in the Recoloring section of the 'Properties' menu. This menu also allows you to apply various effects to the background and frame as opacity, gradient, shadows, etc. If you like the background of a birthday certificate template, you can leave it unchanged.
After the background and frame are set, you can get down to editing text. In this example we have used text and arc text.
These blocks are already preset in the birthday certificate template. To add an arc text to your birth certificate you will need to click 'Special text' and choose Arc text option in the 'Insert' tool panel. Enter a desired text and change its font, style, color and size. Set bulge and radius of the arc text object. You will see the changes immediately and will be able to estimate how the text looks like.
The Title Text Properties Window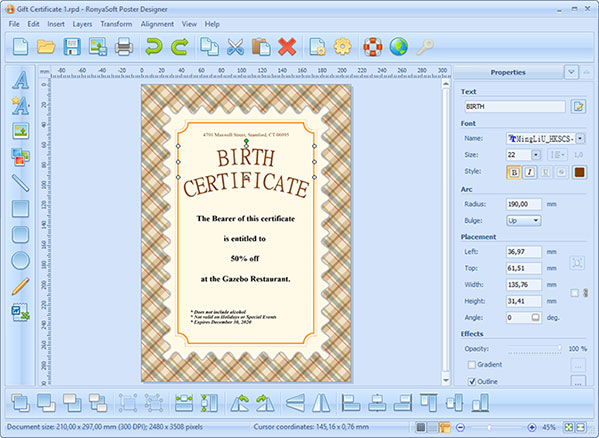 (Click to enlarge)
After setting the Arc text, get down to entering and editing main information, check the correctness of the entered information and add other data if necessary. Everything is correct? Congratulations! You are done!
The Text Properties Window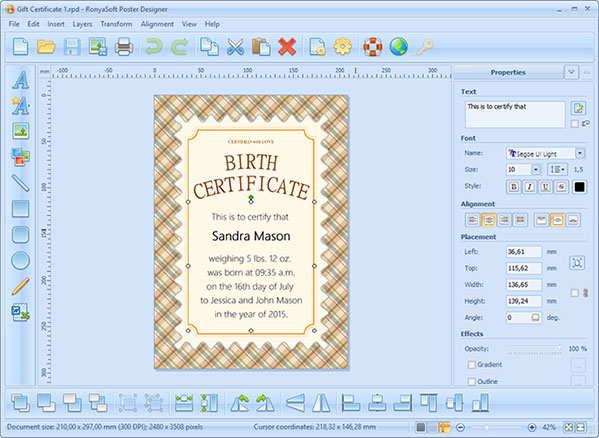 (Click to enlarge)
3)Saving and exporting a birthday certificate
After the birth certificate is ready, you must save the document to be able to print it again and to use as a template for other certificates. To save the birthday certificate open 'File' menu and choose 'Save As...' option. If the certificate is saved for the first time, then software will apply 'Save As...' option automatically.
The birth certificate can be exported to a JPEG file choosing 'Saving as an Image/PDF' option from 'File' menu.
4) Printing birthday certificates
Printing your own certificate is easy and simple. The tool panel offers a 'Print' icon opening printing settings. There you will be able to choose a printer, printing range, copies, paper type, placement and orientation of the document. Ok button will start printing.
Printout Setup Dialog Box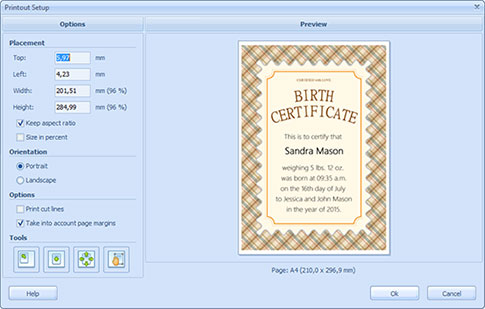 (Click to enlarge)
This review explains you how to make certificat on your own in few clicks using preset templates. The RonyaSoft software for certificate design offers extensive library of templates of documents. This application is an all-in-one solution to make posters, banners, signs, coloring books and many other printable documents for your family, friends and business! Watch other tutorials and find out other options of RonyaSoft application!