how to make a banner?
The main objective of advertising is to convey the correct message. Now this information can be seen everywhere, on buildings, in magazines, on the Internet and on TV, but you'll often see it in the form of billboards, banners and posters too. These forms of advertising are the biggest in physical size and people immediately pay attention to them. But how to make a banner?
To print a banner on a standard printer you will need specialized poster printer software. For this work you can use the specifically created Ronyasoft Poster Designer program.
You do not need to use additional tools to create a banner design with this software either. Everything you need is included in this banner maker software. Additionally, to save time, you can use one of more than three hundred poster templates or use the banner creator to make custom-size banners up to 10 x 10 meters, that you can print using our other software – Ronyasoft Poster Printer.
Also this poster maker software allows you to print a banner at home with ease. Birthday, Wedding, Christmas, Graduation, all these holidays can be celebrated with original and amazing posters and banners.
Make your own banner now.
So how to make a banner?
You can create this Birthday banner and many other wonderful posters and banners in just a few minutes.
The Birthday Banner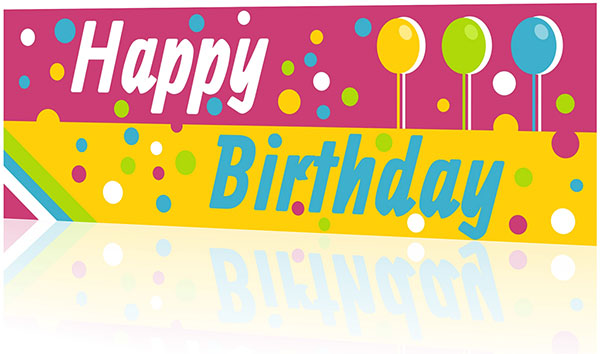 (Click to enlarge)
1) Download banner creator
Before starting to make a banner you need to download RonyaSoft Poster Designer from our website by clicking the link or by clicking on the button above. Installing the banner maker software is very simple and will take you only a few seconds. Start the program by clicking on the icon on your Desktop or in the Start menu.
The 'Startup Wizard' dialog box will open. Here you can choose how you want to make a birthday banner.
If you want to make a banner from the pre-designed posters template - select 'Start from a Template'. Choose 'Start from a Blank Document' if you want to make a banner from a custom-size template. You can 'Open a Previous Document' – to edit a previously saved poster.
The Startup Wizard Dialog Box
(Click to enlarge)
Usually banners are large size so that they attract attention. You can make a banner of any size up to 10 x 10 meters using RonyaSoft Poster Printer.
However, if you don't want make a poster from scratch select 'Start from a Template' option.
The 'Choose a Template' dialog box will open. Choose the 'Banners' category and find the banner template that you want. In the preview section of banner creator software you can see reduced-size banner that you choose with the original size and resolution written in brackets. After you have made your selection, click on the 'Ok' button.
The Choose a Template Dialog Box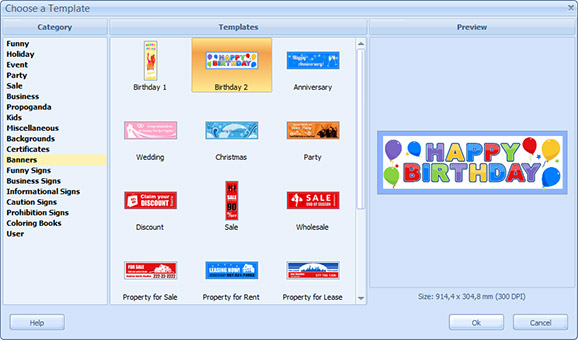 (Click to enlarge)
2) Change banner design
After that you can choose a banner template and then you can immediately print a banner. Of course if you want make original banner you can design it yourself first.
In this tutorial we will show you how to create a simple and beautiful design for a Birthday banner.
To begin, remove all elements from a standard banner template: text objects, images, metafiles and other geometric shapes.
You will now have a clean banner template with a plain background. You can change it if necessary. Since banners are usually hung on walls, doors or fences, or something similar, make sure that the color scheme is consistent with the overall atmosphere of where the birthday party will take place.
Add a few shapes to make your own banner look more appealing.
To insert an object, click the 'Rectangle' or other geometric shapes in the 'Insert' menu or on the 'Objects' toolbar of poster designer.
The Rectangle Properties Window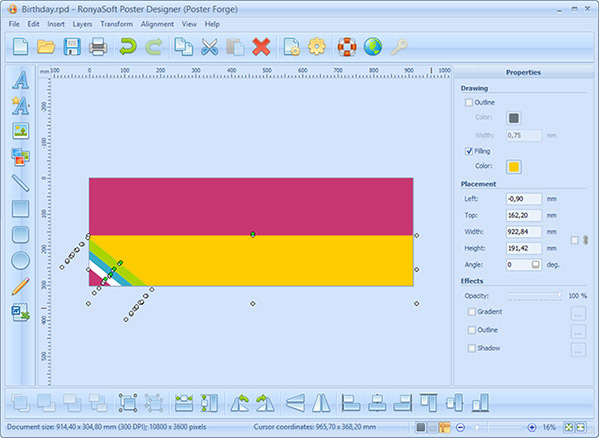 (Click to enlarge)
Now birthdays can't be celebrated without balloons, so a good idea is to add a few colorful balloons to make a great Birthday banner.
To do this use 'Line' and 'Ellipse' objects. The ellipse will represent a balloon and line will be some thread attached to it. To make a banner more impressive and images look more realistic, add shadows and highlights. Use a bright colors.
See the result below.
The Ellipse Properties Window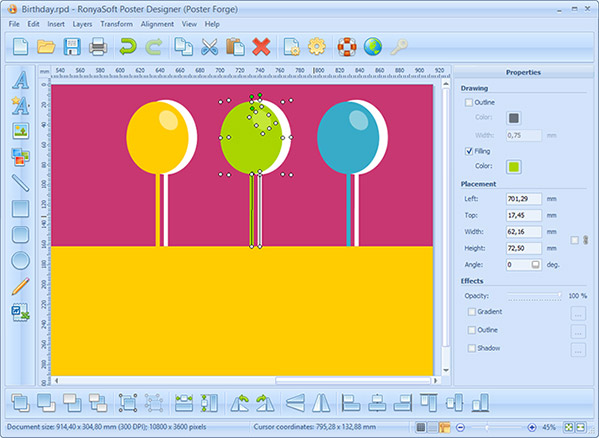 (Click to enlarge)
After that you need to add the main slogan - Happy Birthday! if you are making a Birthday banner. Also you can include the name of 'star' of the day.
To add text object, click 'Text' in the 'Insert' menu or on the 'Objects' toolbar of banner creator.
Change text properties (name, size and style) according to your preference.
The Text Properties Window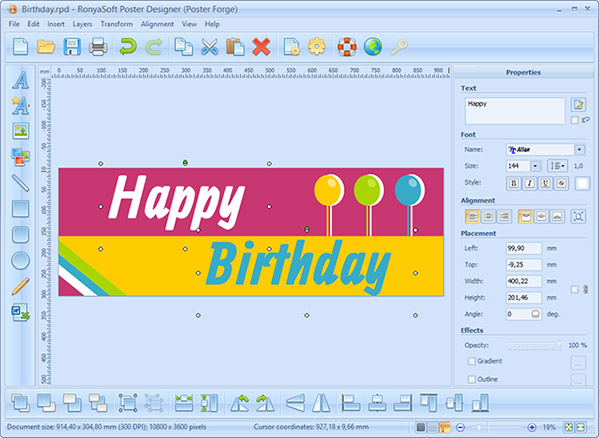 (Click to enlarge)
In order to complement your banner withother elements, you can add a few colorful bits of 'confetti'. Use different colors to avoid merging with the background when making your banner.
3) Save and export birthday poster
Once you have completed making a banner you need save the project. To save your work select 'Save As…' in the 'File' menu or on the 'General' toolbar and then just click 'Save' if you haven't previously saved your work.
You can also export your Birthday banner as an image file in a JPEG format. To do this select 'Export/Export to JPG…' item in the 'File' menu.
Important! In the 'Save JPG file' window specify the file name, image size and quality.
If your computer has a lower resolution specification save the image with a lower resolution.
4)Print a banner
A banner is a large canvas, which is significantly greater in size than an A4 format. So if you want to print a banner on an A4 printer you can use the fantastic RonyaSoft Poster Printer software.
To print a banner on multiple pages select 'Print Multipage' in the 'File' menu.
You can crop the image, set the border, select the banner size, number of pages and other functions. To print a banner just click on the 'Print' button and choose your printer settings.
The Main Window of Poster Printer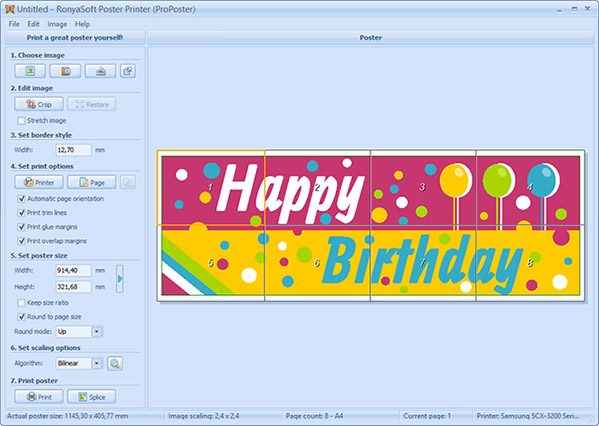 (Click to enlarge)
That's all! Birthday banner is ready.
This tutorial will allow you how to make not only a birthday banner, but other posters and banners, such as Wedding, Christmas, Party banners for your events and Discount Sales, Real Estate Service banners for your business, etc. See more banner templates here.