How to design and print a poster?
Poster is a piece of paper containing important insights on a certain topic serving as a hint. Posters perform textual and graphical information, still it can contain only textual or only graphical data. The key goals of posters are:
to catch attention — thus poster design should be attractive, bright and professionally done;
to provide information — thus scientific poster should be extremely readable and easily scannable.
Posters are used in any sphere of our everyday life, but the most essential aspect for posters is education. Bright posters are of great interest for kids who are just starting to explore the world, simple posters will be of great help for pupils to get essential rules, formulas and hints within sight. Posters can be used in offices to notify employees on company rules and traditions. Posters are optimum solution to inform general public about a significant event as movie opening night, new performance, sales in a store or else.
RonyaSoft poster maker is a excellent solution for you allowing for designing of your own unique posters will minimum efforts and time applied. This review will tell you how to design a poster with few clicks. Scientific poster design will be just a fun with a collection of templates and a simple graphic editor. Be sure, your new creation will look like this poster or even better:
The Scientific Poster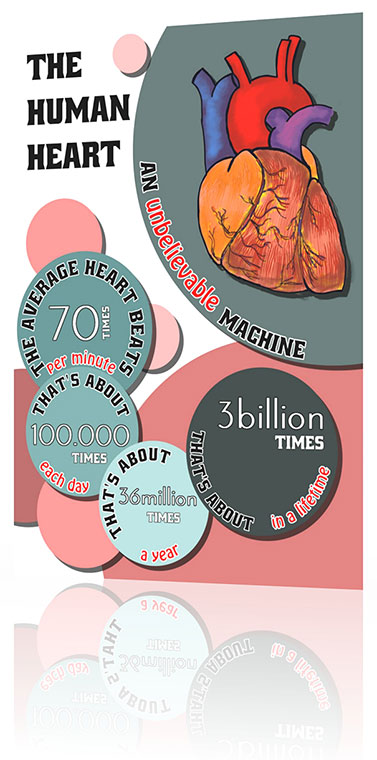 (Click to enlarge)
How to design a poster with RonyaSoft Poster Designer
RonyaSoft Poster Designer is a simple software compatible with most computers and with low system requirements. To download online poster maker, click the green "Download" button on this page. The application for poster design is small, its downloading and installation will take less than 5 minutes. The software is ready to start immediately after installation.
Mind, that download is completely free. It is not limited in options and features enabling you to test the software inside out.
For poster designer, start the application by clicking its icon on your computer. By default the software creates icon on the desktop of your computer and it is available from the Start menu.
1) Setting a poster
On starting the software, you will see the Startup Wizard dialog box which will offer you options for poster design. You can choose among three options:
The Startup Wizard Dialog Box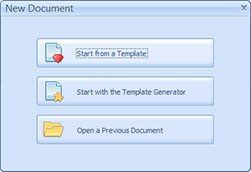 (Click to enlarge)
To make a poster on a certain template, choose 'Start from a Template' option.
To create poster design right from your imagination, choose the 'Start from a Blank Document' option.
To quickly modify a poster design and get a new one, choose 'Open a Previous Document' option.
For a brand new poster choose 'Start from a Blank Document' option is right for you. Mind that templates or previously saved posters will be opened in certain size, while starting from a 'New document' button you will need to set dimensions to your new poster.
In a new dialog box you will need to set the height and width of a document:
Document Size Setup Dialog Box
(Click to enlarge)
Poster dimensions should be set in millimeters. You can enter your own values or choose a poster format from preset standards (by clicking on the arrow from the right). In a drop down menu you will see current formats as US Letter Vertical or Horizontal, A3 or A4 vertical or horizontal, etc.
You will also be able to set a quality (DPI – dots per inch) of a poster.
2) Designing a poster
After you have made the primary settings for poster design, you will see a working area presenting a blank poster document and tool panels. We recommend to start poster design in the next order:
Set a background using background tools. Open a standard dialog box offering to 'Open an Image' (to choose any image from your computer).
Add main objects to a poster. To do so, the poster maker offers simple tools.
Edit objects. In the 'Property' section you will be able to set the size of the object and edit its form if necessary. The menu offers you to add or remove outlines to every object and to change the color of the object. The order of objects is simply changed with the option 'Ordering' objects which you will find on the lower tool panel.
The Ellipse Properties Window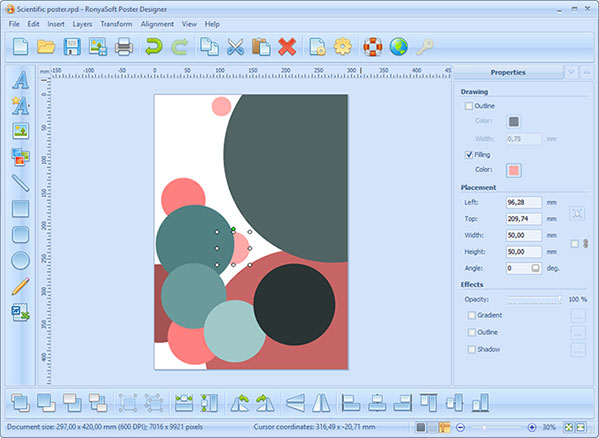 (Click to enlarge)
To add shadows to the objects you can check the 'Shadow' option in the 'Effects' section. Choosing Options will open Shadow Editor dialog box in which you will set the shadows.
If you need to add a new image to your poster, use 'Insert an Image' option and upload an image from a folder on your computer.
The Image Properties Window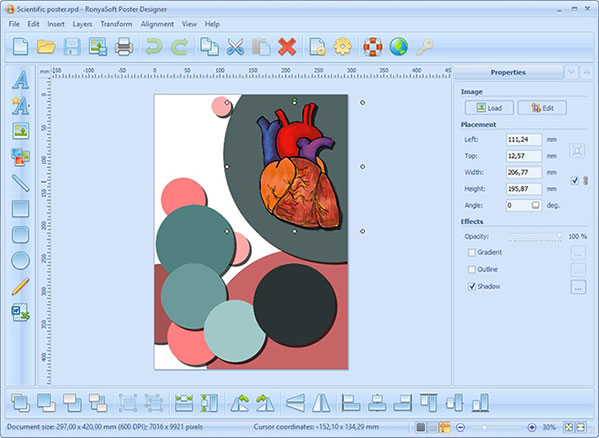 (Click to enlarge)
Then all the objects are added and correctly placed in the poster design you will need to add necessary text. You can choose either simple text or fancy text, clicking a necessary option (for example, Insert a fancy text). In a 'Text' section you will type in a text and change font style, size, color and add certain effects as gradient, outlines or shadows.
3) Saving the poster
Saving the poster is simple. To save your scientific poster you will need to open 'File' menu and choose a 'Save As...' option.
All the posters created in the RonyaSoft poster maker are exportable in JPG format. To save the file to your computer, open 'File' menu and choose 'Save As an Image/PDF' option which will offer you a standard window dialog box to save file to a necessary folder.
4) Printing the document
Poster Designer allows you to print a just created poster right from the workspace. General tool panel shows you a printer icon. To get your poster printed you will need to click this icon or to open 'File' menu and choose 'Print...' option. This will open a dialog box with print settings where you will choose paper, printer, orientation and other parameters.
Mind that some posters are larger than standard A4 format. For such cases RonyaSoft Poster Printer offers multipage printing.
Printout Setup Dialog Box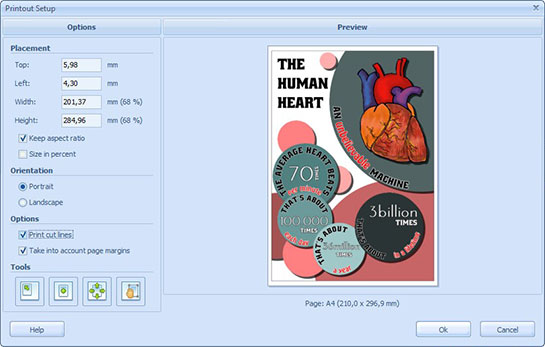 (Click to enlarge)
To create poster design you do not need to be a pro artist, you do not need specific complex software as Adobe PhotoShop, you do not even need specific design knowledge and experience. RonyaSoft poster creator is built to be simple and effective for those who do not have time to learn how software works and who need professionally made posters within few clicks.