how to make a sign?
Wherever you are you will see many signs: prohibiting signs, informational, warning signs. Signs are used to instantly communicate a message. Signs are universal language which is understood by all ages and all cultures. With RonyaSoft Poster Designer you will easily make your own signs in few easy steps. The application offers a great choice of templates of custom signs. Be sure, you will find no smoking sign templates, different warning and informational signs or you will be able to make even your own sign. This review will tell you how to make a sign without specific knowledge of design.
Custom signs are applicable in various aspects of life and business. For example, you can create warning signs or stop signs for your kids to safeguard their outdoor leisure in the yard and prevent them from occasional getting into tool box or using chemicals. Owning a store, you will be able to make sale signs in the fastest and cheapest way.
RonyaSoft poster maker offers an optimum solution for those who value time and efforts. You will need only one application to make your own signs, certificates, posters and other printable documents. Moreover you will be able to create large format banners and billboards for your business or family event.
The RonyaSoft poster software for creation of custom signs offers over 300 templates. It features simple and intuitive interface, thus even a beginning user will easily create professionally looking sign or poster.
You can choose either no smoking sign template or make your own sign from a scratch. Easily save, edit and print the signs with RonyaSoft Poster Printer. With brand creative kit you will be able to make your own signs from the comfort of your home or office saving time (using templates will reduce the process of sign creation up to 2 minutes), money (professional sign design is a rather expensive service) and efforts (just mind, how much efforts you will spend to master other creative design solutions as Adobe CC).
For your convenience all sign templates are categorized so you will easily find a Wi-FI sign, stop sign template or make your own sign.
This is a simple guide of how to make a sign you need in few simple actions!
No Smoking sign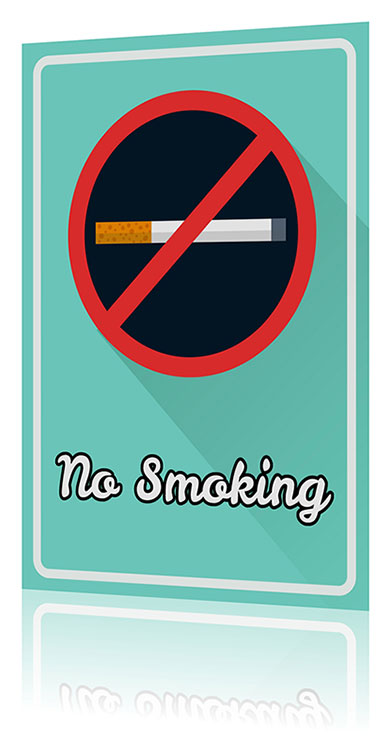 (Click to enlarge)
1) Getting started
To make your own sign you will need to download RonyaSoft poster maker. The application will create an icon on your Desktop. Launch the application by clicking the sign icon on the Desktop or from Start menu.
On the start the application will offer you to:
create a sign from template – using custom signs from extensive template library;
create sign from scratch – the application will open blank document;
open a previous document – the application will open a dialog window offering you to choose from previously created or modified documents.
Choose a Template Dialog Box
(Click to enlarge)
The left menu of 'Choose a Template' dialog box shows you all the available categories of custom signs. On clicking a certain category the central part will show you small icons of custom signs. On choosing a no smoking sign template you will see its full size in the right part of the window.
To find a no smoking sign template, you must open Prohibition sign category and choose a necessary custom sign template. Clicking OK button will take you to the graphics editor. Mind that if a no smoking sign template meets you requirements, then you can print it right away without bringing in any changes.
2) Editing sign template
If a chosen no smoking sign template needs corrections, then you can choose and delete all unnecessary elements. The tool panels of the software offer you simple instruments and options which are marked with simple to understand icons.
But how to make a sign from a scratch?
RonyaSoft offers a simple, user-friendly, but yet effective solution for you. To make your own sign, follow next steps:
Choose a form for you new sign – for example, ellipse. You will find many objects in the menu to use for your signs as rectangles, rounded rectangles, ellipses and others.
Place another ellipse inside the first one and edit its size to make it smaller and ideally fitting into the initial one. Using 'Color' option you can edit the color and add effects to a chosen object as shadows or gradients.
These two ellipses will make a background for your no smoking sign.
Insert a thin rectangle of the same color and shade as the background ellipse. The peculiar feature of the prohibition signs is that some elements may overlap with or hide parts of other objects.
Add other thin white color rectangle. It is a cigarette. Some objects may overlap hiding some of them partially or totally. That's why you must to change order of red and white rectangles. To do this use the following commands for ordering objects: Bring to Front, Move Forward, Move Backward, Send to Back.
If you are creating a no smoking sign then you can make your sign to look more realistic by adding a filter from one side and ash from another side.
Create textures of objects displayed on the no smoking sign using same objects slightly darker color than the initial ones.
Add shadow. To do this, draw twice thinner black rectangle in the bottom half of the cigarettes and change opacity to 20%.
Use a matte, pale colors to stick Material design.
Use proper objects according a type of a sign you are creating. Custom signs are of different forms. The RonyaSoft sign maker allows you to create any sign either from a sign template or from a scratch using your knowledge, experiene and imagination.
The Step-changes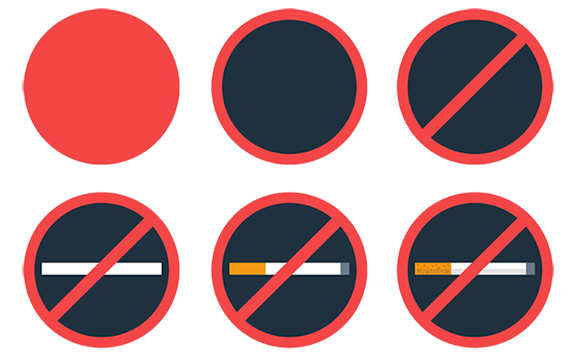 (Click to enlarge)
This picture illustrates an algorithm described above.
Now your sign is almost ready. You can print sign right away or add a necessary text using text or Arc text. You can change the text style, font size, the font itself, placement and effects of the inscription.
Mind that you can download and install other fonts you may want to apply to your signs.
To make the sign look more realistic you can add shadow to red prohibition sign. Draw large rectangle, use gradient effect and change the angle to 45 degrees.
The Rectangle Properties Window
(Click to enlarge)
3) Saving and exporting a no smoking sign
Congratulations! You are almost done!
To be able to edit your project further on or to use it as as a sign template you must save the document. To do so you must open 'File' menu and click 'Save As...' option. This will open a Save Document window offering you to choose a location on your computer where a file will be saved. You can save the file either as a project or as a JPG file. If you plan to use the sign, which you have just created, as a template, then you can save the sign into template library. To do so, you will need to open 'File' menu and choose 'Save As Template' option.
4) Printing your custom sign
The RonyaSoft poster maker offers you two ways of how to print a sign:
standard printing;
multipage printing.
The way of printing will depend on a size of custom signs you are going to print. The standard printing is an optimum way for printing documents of standard (up to A4) format. 'Print' option is available either from 'File' menu or from general tool panel. In the dialog box choose your printer and set necessary parameters.
Printout Setup Dialog Box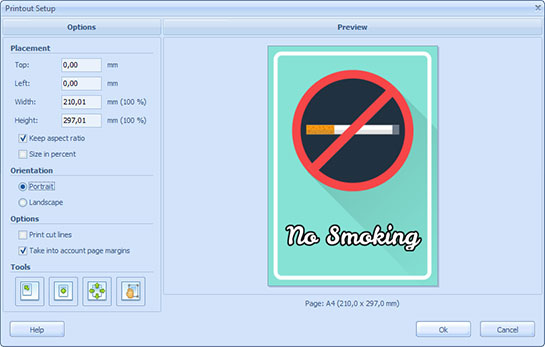 (Click to enlarge)
To print a sign of a larger size you will need to choose multipage mode. To print a sign on multiple pages you will need to export the sign into RonyaSoft Poster Printer, make necessary editing to put a sign on multiple pages for big file format. In this software you will need to select a number of pages, set a size of a sign, borders and other printing parameters. To start printing you will need to click 'Print' button.
Now you know how to make a sign from template and to efficiently make your own sign from scratch. RonyaSoft offers software products to create other printable documents. You can get the software right from this page by clicking the button below or by visiting the download page. Watch other tutorials here.