No Smoking sign
No Smoking sign template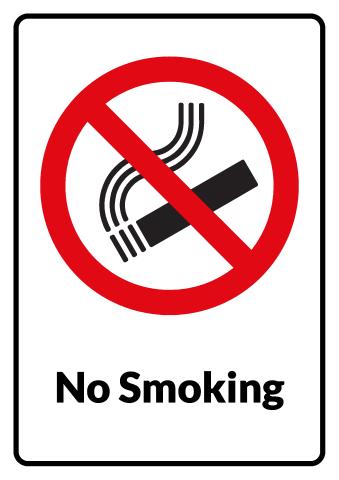 How to make a No Smoking sign
No smoking sign belongs to the class of prohibition signs which specify behavior which is unwanted at a certain place or is prohibited as it results in a potential dissatisfaction, discomfort of other people or it causes potential risk to health, safety or wellbeing of people. No smoking signs are commonly set in public places where unwanted behavior is potentially possible: offices, cafes and restaurants, building surrounding grounds, campus, etc. RonyaSoft offers you a simple and fast way to design and to print no smoking posters.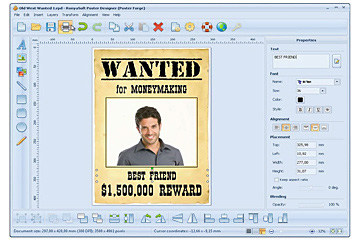 How to make no smoking signage?
RonyaSoft provides a comprehensive set of tools for professional production of business signs, poster backgrounds and funny posters. The software comes with a library of templates which are designed in compliance with international standards of prohibition signs.
A no smoking sign template in RonyaSoft collection contains a prohibiting symbol and wording. Traditionally, no smoking signs use red circle with a diagonal bar containing a black cigarette icon on a white background. Wording is added under a prohibition symbol. The no smoking sign and wording are contained in a black rectangle.
See our tutorial how to make no smoking sign.
RonyaSoft offers you three ways of designing no smoking signange:
Discover a comprehensive gallery with no smoking sign templates. Choose a necessary sign, open it in the editor and hit printing button. This is the easiest and the fastest way of getting no smoking posters printed in professional quality. With RonyaSoft poster maker you can get no smoking sign printed in A4, A5 format (supported by most of printers used at home and office) or you can use RonyaSoft Poster Printer to make large formant no smoking posters and print them in A3, A2, A1 formats.
Find a necessary no smoking sign on the web. Upload the image to the graphic editor, make necessary changes and print the no smoking poster. This is a fast, but not an easy way of making no smoking signage as the images from the internet are poorly or not customizable. The quality of such no smoking signs can be poor.
You can create a no smoking sign on your own using RonyaSoft poster creator from scratch - this is one of the most complicated but yet impressive and creative ways of designing no smoking signs. The graphic editor uses drag and drop mode. Explore available creative objects, switch on your imagination. After you add an object to the document, you will discover all available editing options on the right hand. Mind, that prohibition signs should meet certain design rules:
Red prohibition circle with a diagonal bar.
Standard icon which must be clear to all people.
Wording must be short with no additional explanatory notes - a no smoking sign should be understandable on the go.
Why to use RonyaSoft?
RonyaSoft poster maker is a multi-optional software aimed to satisfy educational and business needs in printed graphics. You buy the only software with editable templates of various posters, signs, certificates, infographics, banners, books for kids, etc. Most of the templates are simply ready to print (do not require additional editing as no smoking sign). The software saves costs of your business for professional design and printing service as well as boosts efficiency of your employees!