Collage 1 collage
Collage 1 collage template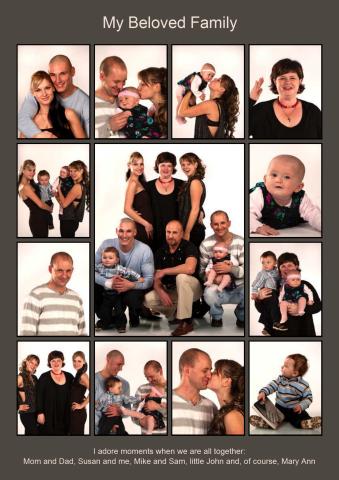 How to design a Collage 1 collage
Collage is a piece of art created by sticking various samples of images and photos into a single unique composition. Usually a collage is made from personal photos. To make such an artwork you need free collage templates, photo collage ideas and a great set of editing instruments to create photo collage with no efforts. RonyaSoft offers a full fledged tool for creating great event and music posters, certificates, infographics, banners and signs. With RonyaSoft Poster Designer you can simply organize precious moments into original collages using Poster Designer.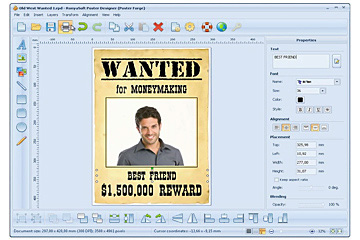 How to create photo collage with RonyaSoft
RonyaSoft poster maker software offers free collage templates for such an art as photomontage. A collage artwork made by assembling photos into a composition is commonly referred to as photomontage. This piece of art is not strictly ruled. You can choose any photos you like to stick together. These can be themed photos, photos illustrating a progress, an event or just pictures with special meaning for you.
It is up to you which size and format of photo to use. To create photo collage you will need:
Collage template

- you can find various free collage templates online or just use those provided in RonyaSoft templates collection. You get fully editable and customizable template professionally crafted by designers.

Photo collage ideas

- while it seems so simple to stick various photos together, still the collage will look much better if it is crafted with a certain theme or idea. Opening poster maker gallery you will discover original photo collage ideas and different free collage templates to organize your moments.

Graphic designer or editor

- when assembling a photo collage you will need to resize, transform, change order your photos to fit into composition. When you choose free collage templates from the web, then you need first to customize the photos you want to assemble with another photo editor and then to assemble in the template. When you install RonyaSoft Poster Designer, you get all necessary tools at once.
Step by step guide of creating a photo collage
Get RonyaSoft Poster Designer installed on your PC. Start the poster application and browse the gallery. Follow to the section of Collages where you will find various free collage templates to make a composition of your photos. If none of the available free collage templates meets your photo collage ideas, then RonyaSoft provides you all necessary tools to create photo collage. Also see our tutorials for working with Poster Designer: how to make a poster from scratch, how to print a banner, how to make a sign, how to create infographic.
When you start the Poster Designer the application offers all available options: to create photo collage from scratch, to select one of the free collage templates provided in the gallery or upload a document form your PC. RonyaSoft is compatible with all standard image formats.
Choose any of the methods you like and start editing your photo collage. RonyaSoft design application operates in drag and drop mode. A click on a necessary element opens all available options in the right hand menu. By clicking and dragging an element you can move it, change its size or simply discover all its components. Upload your photos, crop and reshape them with available RonyaSoft tools and save your collage template!