Certificates
How to print certificates
Certificate is a digital or printed document authenticating qualification, achievements, knowledge, skills, certain action or relationships between people or between a company and a customer. RonyaSoft offers you to save time, efforts and costs and produce professionally looking documents using certificate templates.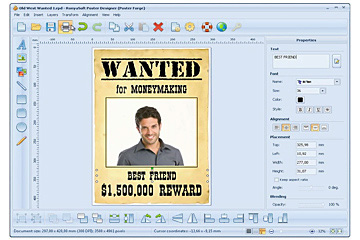 How to create a certificate?
There are three effective ways of getting certificate templates to customize them up to your task:
Using professional design software

as Adobe Photoshop - this method requires deep knowledge and skills in using the software as well as PC great capacity, otherwise you will fail to complete the task. Moreover the price of professional design software is usually too high as most of the tools and features will be unused.

Browsing the internet for certificate templates

- unfortunately, it is almost impossible to find high quality free certificate templates without watermarks. Moreover, fake certificates, which you may find online, are commonly poorly customizable. Any attempts to add brand signs, text or change colors affect the quality of the certificate. Besides, for customization and editing you will need at least the simplest graphic editor.

Certificate maker from RonyaSoft

- this is a complex solution for certificates, posters, banners and signs creation offering extensive collections of certificate templates for all intents and purposes. Certificate maker offers ready to use certificate templates requiring only adding of your brand identity and necessary text. RonyaSoft offers free certificates for business and home usage. Opening the certificate template gallery you will discover certificate templates for business as deposit certificates, registration certificates, certificates of origin. RonyaSoft offers also certificate templates for leisure and fun as marriage or birth certificates. You will also discover a great collection of motivating certificate templates authenticating achievements, skills, knowledge, career promotion.
How to use RonyaSoft Certificate Maker?
Download Certificate Maker from RonyaSoft right from this page. It is free. Mind, that it is a full featured demo version.
Install and launch the software following Installation Wizard.
RonyaSoft certificate maker allows you to use any of free certificate templates or choose blank certificate and design it from scratch.
RonyaSoft graphic editor offers a complete set of tools to design your own certificates with minimal time and efforts invested.
Choose one of the certificate templates or a blank certificate. The application will open it in graphic editor.
Set, change or edit background of the certificate.
Upload your brand identity signs (if you edit a certificate template for your business) or create new logo using objects and effects.
Locate the objects on the certificate template using drag and drop mode and edit text blocks. On clicking a text block you will see a right hand menu providing you all available tools for text formating. You can set style, size, color of the text. If necessary you can duplicate the blocks, add and remove ones.
When a certificate is ready, please, do not forget to save it.
RonyaSoft certificate maker allows you to print your certificate right from the editor. To do so, just click a printer button on the tool panel and set the printing. The application is compatible with most popular printer brands and models.
Get RonyaSoft to create great certificates for free!