01. Some ideas to create business banners
Banner is a piece of visual art created to meet marketing goals of a company. Commonly business banners contain elements of brand identity (logo, slogan, name of the company) and a message. Banners are used to attract potential customers, for branding and for supporting of a company image. Banners are used online and offline. When launching a new marketing campaign, you need to know how to create a perfect and highly effective banner!
Business banners and signs pursue the next goals:
Communicating a message;
Creating/supporting company image;
Attracting new customers;
Touching returning customers and reminding them about a brand;
Comparison with competitors.
You will easily achieve all these goals with a single business banner if you know how to design a perfect one.
How to design a perfect business banner
Business Banner for Art Studio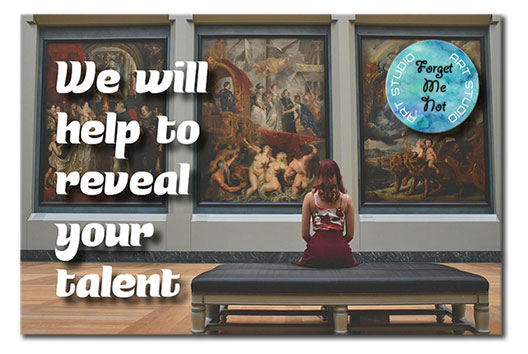 (Click to enlarge)
Before you start creating a business banner you need to know the placement of the banner and the environment in which the banner will be placed. The placement can be offline and online.
Offline placement means that people will see a printed banner of a big size.
Online placement means that people will see a graphical online ad.
Developing a business banner for offline use you need to consider a typical behavior of a target user in a given environment. For example, a banner can be placed on a road billboard, then the users will see it when driving cars. Thus you have milliseconds to catch their attention and communicate your message.
When creating an online banner you need to consider how many other commercial messages will bombard a target user in a given environment. The more ads are placed on a chosen website, the better your banner must be to stand out on the background of other ads.
Here are 10 tips how to create high-performing business banners and signs
Before you start creating your perfect business banner, you need a tool for it. RonyaSoft Poster Designer is what you need as this software meet all your goals: provides free customizable templates for business banners and signs, a perfect graphic editor to easily customize a design up to the goals of a marketing campaign as well as featuring additional options allowing to optimize a business banner for printing.
You can download Poster Designer right from here!
When you are ready to start customizing a template or to create a business banner from scratch, please, follow the next tips from professional designers of marketing tools.
Business Banner for Travel Agency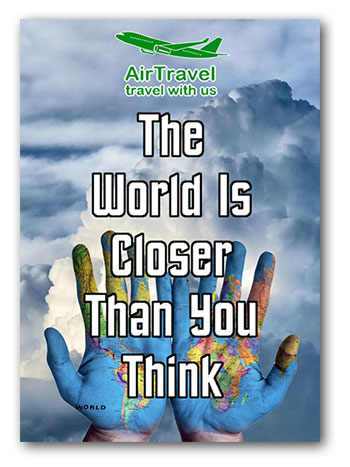 (Click to enlarge)
1. White space
White space makes key elements more standing out. Moreover, a space free from graphic elements makes the perception of the business message faster and simpler. The principle less is better is a perfect example for a business banner or sign. It is recommended to leave up to 70% of business banner free from graphic elements.
2. One banner communicates one message
Do not overload a business banners and signs with information. If your goal is to inform about a sale, then do not add information about new features of new products.
3. Only one key visual element
Do not use all visual elements you like. the most successful business banners usually work even without any images at all. Just choose the only one picture that communicates the message best. If you have no such a picture, then try only words for your banner.
4. Keep it short
The message must be short. The shorter the better! Choose the most speaking words. Writing a copy for business banners is a complicated task. If you fail to choose the right words, the visual will not work at all.
5. Contact information
Contacts are the only possible way to effectively track the performance of an offline banner. That is why use a dedicated contact channel which will receive calls from customers who saw your business banner. Keep in mind that offline users can not click a banner and follow to your website. They commonly try:
a) to remember a phone number
b) take a photo of a banner to keep the contact
Another way is to place a specific QR-code to your business banner which will take your offline customers directly to a landing page or your websie.
Still creating a business banner mind that there should be only one contact channel and it should be large enough for a user to see from a distance.
6. Visual order
Key elements of a business banner should be bigger, less important elements should be smaller. That is how visual hierarchy works. Bigger elements are perceived as more important. With RonyaSoft banner creator you will easily resize any element by clicking and dragging the borders of the element.
7. Track your grammar
Check spelling and grammar mistakes unless you use mistakes for attention attraction.
8. Readability is more important than visual appeal
Keep the copy readable. Text should better be placed in a space free of other graphic elements.
9. Use pro tools
With RonyaSoft banner creator you will easily design or customize a business banner of a proper size to be printed for any placement and any business goal. You will also find popular formats of banners for online use.
10. Use company logo
Logo helps target user to faster identify a company. Such banners are more authoritative and credible than nameless and brandless.
RonyaSoft banner creator helps you to consider all the rules of banners and signs design. The application does not require specific design experience and knowledge to create excellent visual graphics. Due to free business banner templates which you will discover inside the application, you will easily make a banner which will attract lots of leads to your proposal!
There is no super formula of creating super selling business banner. Just experiment: make the banner minimalistic as in this example, or add some creativity and make it sand out from all the competitor ads. To find a perfect formula of a business banner you need to analyze the environment: what tactics competitors use to attract customers, what methods they use to convert target users into customers and so on.
Only real life marketing campaigns will inform your design decisions with data. Whatever rules pro designers recommend, still customers better perceive bright and eye-catching designs as one of eh examples in this article!
Do you want to know more? See our another articles and tutorials: How to make a banner, How to create a sign, How to make an infographic and other.