Parking sign
Parking sign template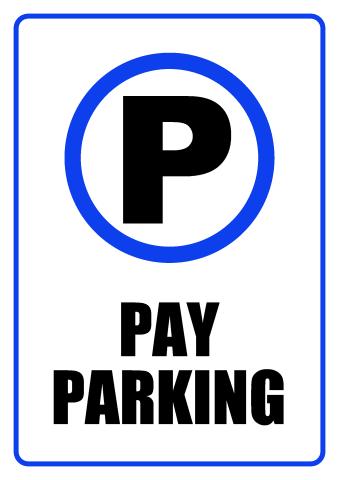 How to create a Parking sign
Parking sing belongs to informational signs indicating about authorized parking lot in this place. Parking lot signs inform clients of your business about an equipped safe place to leave a vehicle for a while and get things done. There are also custom parking signs communicating to drivers additional information (as private or paid parking or for clients of a certain store only). RonyaSoft Poster Designer will help you to create any parking sign you need.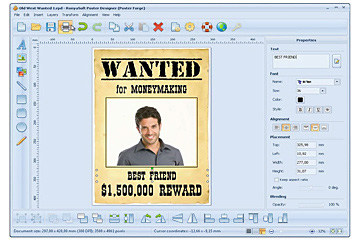 Why to place a parking sign?
Parking signs are important for safety of drivers, pedestrians, passengers or cyclists. A well equipped parking lot improves the comfort of being a client of your business. Providing a convenient, safe and well equipped and informed parking place demonstrate customer care and attracts more clients to your business. There are simple ways to make a parking sign.
You can buy standard parking lot signs at specialized store, however there is a simpler and less costly way to equip your parking place with valid parking lot signs.
How to make custom parking signs?
RonyaSoft Poster Designer is a specific software optimized for printed graphics creation and editing. The software comes with:
Extensive collection of templates with a large choice of various printed graphics as prohibition signs, music posters, certificates, banners. All the templates are editable and customizable. Private parking signs are ready to print. Custom parking signs may be edited and customized upon the needs of your specific case.
Graphic editor - a simple yet powerful design instrument offering only essential options for sign creation and editing. Thus customizing a parking sign, you can add a text block to specify which business, store or office this parking lot belongs to. In graphic editor you will easily resize parking lot signs, add brand identity, edit effect properties.
Printing options - RonyaSoft Poster Maker supports the full cycle of graphics production. With this only tool you will be able to create (from scratch) a sign or poster upon your ideas or choose from sign template gallery, edit and customize the template and get it printed. Poster Designer is fully compatible with top printer models and brands with no additional settings required. The software ensures high precision and high quality printing.
How to make a parking sign with RonyaSoft Poster Maker?
Download poster maker from this sign page directly (click green button) and get the software installed on your PC. This is a demo version with full tool set and collection of templates available. If you want to buy full version go to this link.
Start the application and choose Informational signs category in 'All templates'. Choose a necessary one among parking lot signs you want to edit or just print. There are custom parking signs which you can edit and make specific to the needs of your business.
Open the sign template in a graphic editor and bring in changes if necessary or just hit the 'Print' button to get the sign printed. The editor uses drag and drop mode for the simplicity and ease of template editing.
With RonyaSoft Poster Designer you will design from scratch, edit and print any sign or poster or infographics in a matter of minutes. See our tutorials - how to make posters, create banners or infograpics. Valid high quality templates are included!