Banners
How to create banners
Banners are used to attract attention and to communicate attention to target user. Perfect design is essential for a banner to meet its goals for people to notice and understand a message. Expert designers recommend to look at banner creation as a consistent process. To create custom banners you will need a powerful banner maker.
RonyaSoft offers a perfect solution for professional creation of custom or personalized banners. Poster Designer is easy to use and guides you consistently from one step of banner creation to another.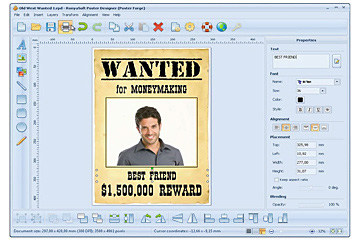 Process is very important and RonyaSoft streamlines banner production.
A good banner:
Focuses on the goal of the banner.
Considers target audience.
Clearly communicates the message.
Uses proper colors boosting the effect of the message.
Uses proper fonts and styles to keep the message readable.
How RonyaSoft Poster Designer can help creating custom banners?
RonyaSoft ensures production of effective banners.
First, downloading RonyaSoft Poster Designer from this page you will get an up to date banner template collection. You will find banner templates for business as sales, lease, rent, leisure and entertainment as birthday and wedding banners, party and anniversary banners.
Every banner template is optimized to achieve set goals:
To attract attention of target audience.
To clearly communicate a message.
To convince a person to make an action.
Each banner template is an optimum choice of size, colors, objects on backgrounds. It is a ready to use layout for custom banners. Creating personalized banners using templates is simple and takes only few clicks.
Second, each banner template is customizable to meet your goals and needs. RonyaSoft Poster Designer offers a powerful yet simple graphic editor. It is intuitively clear and fast to use. Each element of the banner template is clickable and editable. Choosing a certain banner template you can change not only text blocks, add and remove objects, but alter the color scheme and layout of the banner template to meet your needs.
Third, RonyaSoft allows you to optimize your banner template to the multi-page printing instantly. You do not need to waste tons of paper to adjust your custom banners to look correct and great when printed on multiple pages. To ensure fast and simple multi-page printing, get RonyaSoft Poster Printer.
Step by step guide how to use banner templates:
Download, install and start RonyaSoft Poster Designer.
Choose banners in the template collection. The gallery will open all available banner templates. These are ready to use layouts. To create custom banners you can just add necessary text blocks and brand identity elements (if custom banners are created for business).
Edit and customize a banner template in RonyaSoft graphic editor. Click each element you want to change or reposition. Use drag and drop mode to add new elements or change a location of existing elements.
Choose necessary tools or available options from right-side menu and edit blocks.
Save your banner and click Print button!
You are done!