Wedding banner
Wedding banner template

How to create a Wedding banner
Wedding banner is a key decoration of a wedding hall. It is the best way to create and festive romantic atmosphere of the event. While most users search for wedding banners online, RonyaSoft offers you amazing wedding banner design templates for free and a powerful editor to customize your wedding banners.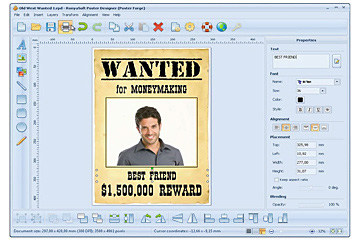 Why you should not search for a wedding banner on the web!
The key reason why users search wedding banners online is that the search seems to be a faster and simpler solution. You must only enter a query for wedding banner and open Google Images. But when it comes to search you will get desperate after visiting of a couple of websites offering the best wedding banners and after scrolling a couple of screens of images.
Search results will be disappointing. Most of wedding banner results will be protected with water signs or presented only as thumbnails (very small copies of an original wedding banner). Others will seem too trite to use for such a special occasion as romantic wedding ceremony. However online search is not as bad and useless as it may seem.
During the search through the galleries of standard wedding banner solutions you may find great ideas of wedding banner design and you may see which free wedding templates are more frequently used. Thus you will be able to create a really unique wedding banner for your occasion.
How to make a really unique wedding banner with RonyaSoft?
First, get RonyaSoft Poster Designer - this application provides you a complete gallery of banner templates featuring different color schemes and various wedding banner designs, and a simple graphic editor to edit and customize a banner. Download the software trial version right from this page clicking green button. Also you can buy poster maker.
Install the software following the wizard. The application does not require any additional setting.
Start the application and open the 'Start from a Template'. Choose banner category. All available wedding banner designs will be displayed in the central window. Click any desired banner and you will get it opened in large copy in the right window to see the wedding banner in details.
Confirm your choice by clicking 'Ok' button and the wedding banner will be opened in the graphic editor.
RonyaSoft Poster Designer offers ready to use wedding banner templates. This means that you can skip editing and just print the wedding banner. However you can personalize a wedding banner by adding photos of bride and a groom and changing standard wording for warm hearted congratulations. It is easy. Just click a text block and you will see all available options in the 'Properties' menu. You can change the text coloring, font, style, add effects as shadowing or opacity. Moreover, you can simply change the position of text by dragging and dropping it to a desired place on the wedding banner.
Do not forget to save your wedding banner. As wedding banner templates are commonly designed for large format printing, then you will need a proper software for multipage printing or you will need to order large-format printing at publishing house. RonyaSoft offers you a simple solution for exact and fast multi-page printing - RonyaSoft Poster Printer. Be sure you will create and print amazing wedding banners in a matter of minutes!