Birthday 1 banner
Birthday 1 banner template

How to make a Birthday 1 banner
Birthday banners are the best way to create the warmest congratulations on the event. To create a birthday banner you will need great birthday banner templates to choose from and a powerful yet simple graphic editor to complete a birthday banner with a congratulating message.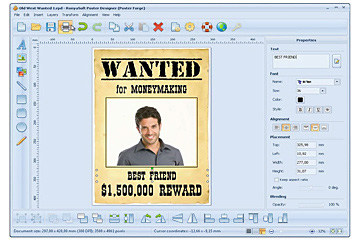 RonyaSoft Poster Designer for birthday banner or why you do not need anything else?
RonyaSoft offers you an poster maker application covering all stages of birthday banner production. On downloading and installation of the application you will get access to:
A complete gallery of posters, signs and banners - the templates gallery offers free birthday banner templates which are greatly editable and customizable. The birthday banners are of great quality and are easily scalable. You can edit and print a birthday banner on a standard A4 paper or get another powerful application for your creative task - RonyaSoft Poster Printer and get your birthday banners printed on multiple pages. Using these tools from RonyaSoft you eliminate expensive professional printing in publishing houses.
A simple graphics editor - this tool helps you to edit and customize your birthday banner in a few simple clicks. You can change color, text block, create your own art objects, add images and photos, change font and style of the text. You will see all available tools for your birthday banner template in a 'Properties' menu. Clicking a necessary block you will see all tools which you can apply in the right menu. Adding photos of a person you will simply create personalized birthday banners in the simplest way.
Why RonyaSoft Poster Designer is the best solution for you?
RonyaSoft poster maker is easy to use - the graphics editor features a full set of necessary tools which you will surely need in the process of editing birthday banners. Unlike other applications, RonyaSoft poster editor does not require extensive knowledge of design. Thus a massive time-consuming learning curve is escaped. Even your kid will cope with a task to create a happy birthday banner with RonyaSoft poster maker.
You get access to high quality birthday banner template - scale, change color, add images and photos, create simple graphics without compromising the quality of birthday banners. Sure, you can download a standard birthday banner from the web, but you will devastate your efforts to turn it into personalized birthday banner. Moreover, any editing of birthday banners downloaded from the web commonly affects the quality of the final result which becomes even more visible when you print the birthday banner.
It is a time saving solution - RonyaSoft poster creator software offers a collection of free, ready to use banner templates. Editing process is fast and easy. You can do as little as changing only a name of a birthday person or as much as changing colors, adding and editing photos, creating a congratulation collage.
RonyaSoft Poster Designer offers you free birthday banner template and does not limit your ideation. You can use the templates as a starting ground to create unique congratulations and personalized birthday posters. Try RonyaSoft Poster Designer now! Download full featured trial version for free or buy poster maker online!