Miscellaneous Posters
How to design miscellaneous posters
Collage is the best way to design dear and precious memories as photos. RonyaSoft offers you a great collection of collage templates to create wonderful collage pictures with your photos with themed decoration. And with collage maker software from RonyaSoft poster production will be just a fun for you!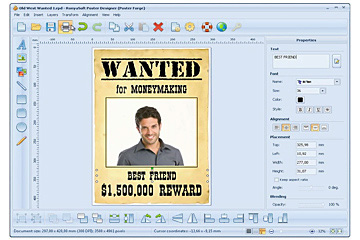 How to use collage maker software from RonyaSoft?
First you need to download the software and to install it properly to your PC. Click the button to start download and follow the instructions for installation.
The software does not need any additional tuning to start using.
Start the software and open the miscellaneous posters category. Here you will find not only wonderful collage templates, but missing poster template, academic poster template and even posters for winners.
Collage poster is a great template to organize your photo memories from vacation, holiday or event.
Academic posters are great solutions for students and scientist to make bright and easy to read cheat notes and notifications.
Missing poster is an essential solution for those who need to find a missing pet. This poster is the simplest to modify. You need to change only the picture of your pet and to specify contact information. With this missing poster template you will be able to start search of your pet friend as soon as possible, notifying as many people with bright and eye catching posters. The time of production can be reduced up to 5 minutes.
How to make a collage?
Collage templates are probably the most challenging to edit as they require various photo uploads and their size optimization.
First, make up your mind of how many photos you want to add to your collage template.
Collage maker software allows you to add as many pictures as you want. But too many photos in one collage will make all of them look unclear. Choose the best ones or themed ones to add to your collage.
Change the collage template background color according to a theme of the even you want to memorize. If it is a romantic event as a memorable date, engagement or wedding you can apply light blue or marshmallow pink, pistachio green and nude shades. For bright occasions as birthday parties or Halloween use bright colors as orange, red, yellow, green. For traditional holidays as Christmas and New Year Eve you can use traditional colors.
Moreover changing background color with collage maker software is easy as ABC. Just click the background and choose a color in a right side menu.
Upload photos and place them in a desired order. To change the order and a position of every picture just click, drag and drop it.
You can add text to the poster to add even more of memorable value to your creation.
After the collage poster is ready, you can save it as a template to use further on. Use File menu to print the collage.
A singe collage maker software from RonyaSoft provides you a full featured solution for professional poster production at the lowest cost imaginable!