Informational Signs
How to create informational signs
Information sign is a specific placard or poster which informs people about modes of usage, potential risks, purposes of the object, changes in course of business etc. Informational signs require high quality printing to preserve scannability and readability on the go. There are certain rules of how to make proper information signs.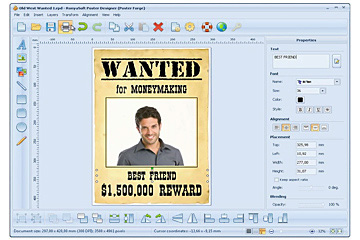 How to make high quality informational signs
Information signs are used everywhere: in the streets, in the offices, at home, at schools and colleges. While some informational signs notify a person on proper behavior (as Smoking Area sign template) or purpose of certain premises (as Restroom sign template), others warn people against risks (as Under Construction sign template) or directing people during evacuation (as Exit sign template). No matter what type of information signs you need, the next code of rules will ensure high efficiency of the signs:
Clear design

- the less graphic elements there will be on the sign, the more readable and scannable it will be. It is recommended to use much of blank space among objects to ensure scannability on the go.

Use contrast colors

- information signs must be seen, read and understood on the go. Moreover they must be clear in despair and panic when a building is on fire, for example. High contrast will help to keep readability even in poor visibility.

Do not overload the information signs with data

- some informational signs do not need words at all as graphics communicates better. Human mind perceives graphics 60 000 faster than text.

Use standard icons and images

- information signs with standard icons will be scanned and read faster than new atypical symbols.
How to make informational signs with RonyaSoft?
RonyaSoft poster maker is a complex software providing all necessary tools for full cycle production of signs, posters, banners, certificates, business and educational infographics. The software comes with a collection of templates which are ready to use. On starting the software you will discover a well organized gallery of templates.
Each template is customizable and editable. Information signs templates keep to the rules and standards of UX design. These informational signs are ready to print. You must only download RonyaSoft Poster Designer (click green button on this page), install it properly on your PC and choose a type of information sign you need (for example, restroom sign).
A chosen sign will be opened in a graphic editor in which you can add text blocks to the signs, add brand identity graphics (as slogan or logo), change the colors of sign to brand ones (not recommended as choosing a different color may decrease readability). Mind that any changes made to information signs templates must be estimated as they may result in lower readability of the sign. RonyaSoft offers informational sign made up to the design industry standards.
RonyaSoft Poster Designer offers convenient and easy to use in-built printing tool. To print informational signs you need just to click a 'Print' button on the tool panel and set the number of copies required. The software ensures high quality precise printing.