Garage Sale poster
Garage Sale poster template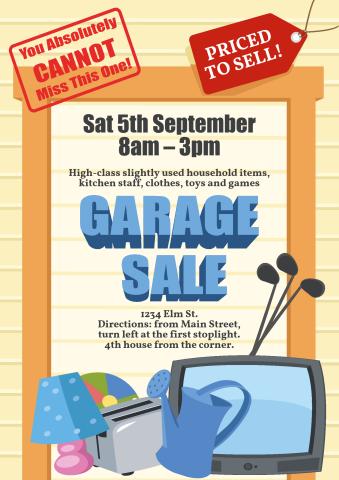 How to create a Garage Sale poster
Garage sale is an immensely important and useful event in any household which makes all useless stuff away and generates profit. Usually it is an informal event taking place not necessarily in your garage. However, if nobody will know about your sale, your event will fail. To make people come and buy your used stuff you will need: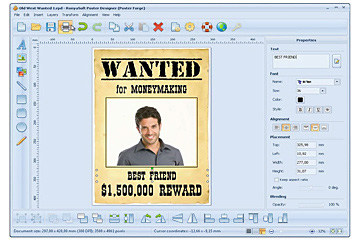 Garage sale ideas to make great eye catching posters and signs which will attract attention, communicate the idea and provide event essentials: pace, time and duration. To inspire more visits, add urgency to your garage sale poster by limiting the number of items, adding exclusive stuff or limiting the duration of the sale.
Garage sale signs - these are eye catchers which will lead your target buyers to your sale place. You need to print the signs to mark the way of buyers to your 'garage'. To boost efficiency, add some wording, inspiring interest or curiosity of potential buyers to make them rush to your place following garage sale signs. To attract even more people, you can set a real quest in your area, offering discounts on garage sale signs. With RonyaSoft Poster Designer you will easily bring to paper any fancy idea you have!
Great quality pictures of the stuff you are going to sell - Poster Designer allows you to simply upload and edit photos to signs and posters. Visual cues will attract even more attention of potential buyers and will inspire buyer desire!
A valid tool to compile all your ideas into effective garage sale signs and to create a vivid poster!
How to make garage sale signs with RonyaSoft Poster Designer
RonyaSoft Poster Designer is a great tool offering you an extensive collection of signs and poster templates, garage sale ideas and supplementary materials. You will discover posters, signs, infographics, certificates and other poster ideas absolutely free!
Download Poster Designer right from this page. Follow installation wizard. The application is ready to use right after installation. No additional setting is required.
Open the Choose a Template dialog box and choose Sales Posters. You will see all available templates in central window of the application. Choose a template of garage sale sign and click 'Ok'.
The template is fully customizable. It will be opened in a graphic editor which is simple, clear and logic. To edit a desired element, click it and you will see all available options. To move or resize the element, use drag and drop mode.
The garage sale poster templates in Poster Designer are ready to use. So, you can change as little as only wording or as much as adding new text blocks, visual cues to attract attention or to boost curiosity.
Saving your garage sale signs as templates, you will easily edit them and print new signs and posters. Besides, RonyaSoft Poster Designer allows to print signs and posters right from the editor. If you need your garage sale poster in a larger format, use RonyaSoft Poster Printer which ensures high quality, precise multiple page printing!